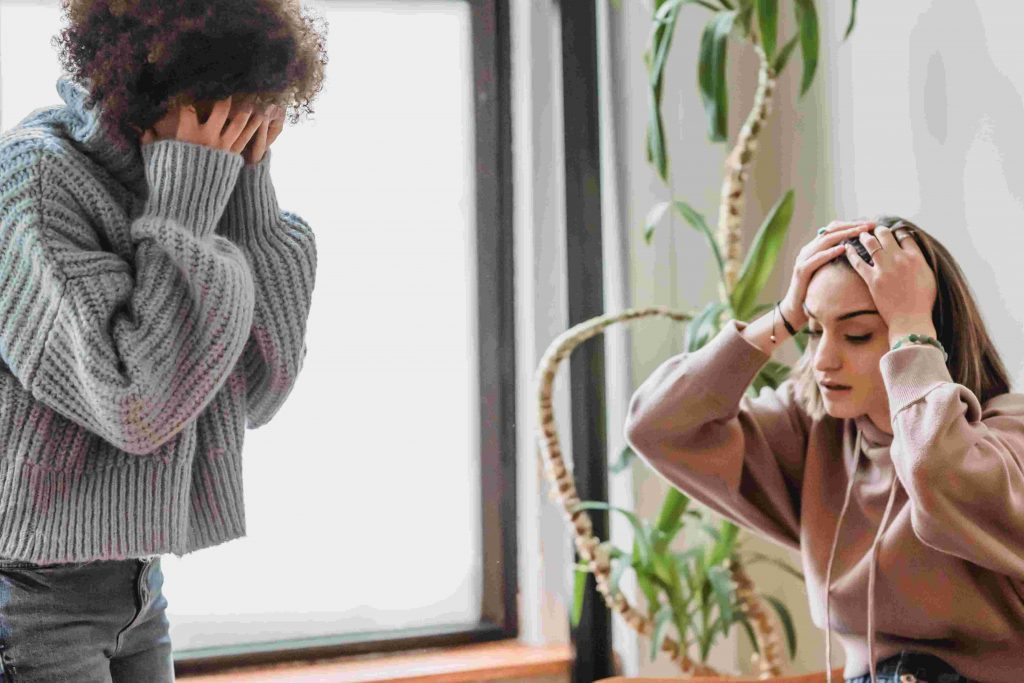 Human being is an emotional well being. Due to the ongoing pandemic or less social interaction, there is frustration rising among the people. Confrontation can happen anywhere be at the workplace, office, home. This happens based on the situation. According to the psychologist, confrontation is a heated communication that is due to stress. Avoidance of this situation is impossible. Confrontation is usually the communication while dealing with negotiations. Stress is everywhere but you had to take some steps in your daily life to handle it.
Fear of the confrontation is due to the various reasons. This can be due to many personal, emotional, and mental reasons. Sometimes during the confrontation, you might choke on the words.
Upbringing: Child starts learning its lesson from childhood. In rural areas, the females are not allowed to speak as compared to the males. This leads to less confidence in women.
Preference: In the case of having two children one is preferred by the mother or the latter by the father. When speaking sometimes the other child has not listened or he/she develops feelings of being less liked.
Weak: The people show how strong they are by showing their muscularity or their physical powers. But during the confrontation, it sometimes leads to physical attack due to the fear of failure.
Confidence: Often time's people are unable to accept their reality. They tried to go for counseling but fear so as they are not that strong.
Ignored: This is a common problem that the office goers dealt with. While asking for ideas, or opinions they outnumbered people.
Listening: Speaking, speaking, and not listening is not a good habit. Listening and then giving advice is beneficial for both.
How to remain calm and cool as a cucumber in a heated argument!!!
Sometimes if you live consistently with one person you know the shortcomings and the positive aspects of the person. Behavior is also depended on mood. Observe the behavior and make down a list of the abusive words that are used and how frequent it is used.
If you are heading to a confrontation, certain tricks will help you:
Preparation: Mentally preparation is the basic trick. Prepare a list of points to discuss. Highlight them and discuss them in detail. Stick to the points that increase productivity. Discuss all the positive and negative aspects.
Observe: If you see people having a heated argument try to point out the problems. It is important in an aspect. As the people might waver from the ongoing discussion. They might be arguing on a non-relevant matter and simply wasting their time.
Identify
Try to indulge yourself in communication and while figuring out the reactions, behaviors, and expected behaviors. This will help in behavior formation. Practice with the help of paper point out all the aspects that can be possible.
Location
When heading for confrontation the location is important. Sometimes the location must be dangerous. Let us look at an example: While traveling on the road, there might be an accident or a scratch might be enough to lose your cool. If you are in that position try to look for a familiar and crowded surrounding stopping at an isolated place might be threatening. If you are in a daytime it will be a plus point but ignore completely at night time as it can also be life-taking.
Analysis
You might be stuck in a heated argument and see that there is no point in getting ahead. Take a break by staying silent and observe the path of conversation. Compose yourself and list out the points that need to be discussed. If you see there is no scope try to find a mutual path.
Emotions
Emotions are often associated with feelings but they can be kept sideways. As sometimes it can trap, gulp and choke your mouth. Try to step out of it. As most of the important decisions are not based on feelings. Emotions can also cloud your judgment.
Clarity
While speaking had a clear vision of what is the problem and what can be its solutions?? At that point it cannot be possible to give an exact solution but speaking with confidence can attract everyone's attention. Sometimes not speaking can be a problem.
Relaxation
Heading out to a meeting, keep your stress outside. Sometimes while speaking there might be the possibility that your voice can be very high. Controlling emotions is very necessary it gives clarity in thinking. Calm your senses by taking a deep breath or two. Also helps in looking for the potential outcome.
Sometimes the confrontations can also lead to competitions and fights. If you think that staying put is the best option then stay put. Try to avoid the most dangerous situation. If you are relaxed, you can handle the situation in an effective manner. There is no benefit in fighting.