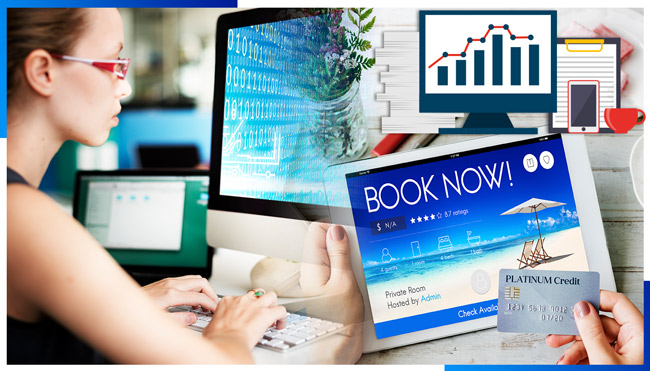 When it comes to the vacation rental business, it is extremely important to have a website to showcase the features of your property. Even better is actually having a website with direct booking. If we talk about the vacation rental business in USA, many property owners are now moving towards building their own websites as much as possible while taking help of affordable web development services in USA and including direct booking on them. With direct booking, it is crucial to ensure the security of the data involved. 
To begin with, why should you build a direct booking website?
It ensures ease and optimization on your rental rules and methods.
It cuts out the booking fee taken by other platforms.
It helps your website gain traction and reputation as well as generate more leads.
It helps you do your marketing the way you wish it to be done.
It helps you build your unique brand which separates you from the generic crowd in this business.
Now comes the part where you get to the actual website building, so, here are some ways how you can build a direct booking website yourself which is not only functional but also safe and secure. The main steps are as follows:
CREATE ACCOUNT WITH HOSTING PROVIDER
At first, you have to create a website with the help of hosting providers. One of the biggest hosting providers in USA is GoDaddy but there are others like BlueHost as well, if you wish to create accounts on them. Reputed hosting providers have a certain level of security which is stronger when compared to other not so well known hosting providers. You can check whether they have web application firewall and denial-of-service protection as a means of verifying their security measures.
PURCHASE PROPERTY DOMAIN NAME
Buy a property domain name but keep certain things in mind when doing so. Create a unique domain name which is not generic and sets you apart but also make sure that it is not too difficult for people to remember. Use keywords and always remember to include your brand name in your domain name as well. Make it an extension of your company and brand.
TAKE ADVANTAGE OF CONTENT MANAGEMENT SYSTEMS
Content Management Systems or CMS are wonderful tools which are important for building websites, especially for beginners such as yourself. To create a secure website, make sure your CMS is strong and robust. WordPress and Joomla are some of the most well-known CMS in USA and are extremely user-friendly while also focusing on the security of your website.
USE A VACATION RENTAL WEBSITE TEMPLATE
A vacation rental website template is an excellent way of setting up a website for a beginner as they can have an idea of the things to include and where to include them. A template allows you space for setting up your rental properties and accommodations. Templates also include spaces wherein you can add certain rules and specifications pertaining to your properties.
SET UP A PAYMENT PROCESSOR TO ACCEPT CC PAYMENTS
A payment processor is an important aspect when it comes to creating a direct booking website. Use payment getaway solutions specific to USA and incorporate them into your websites. You can also find out templates of websites with direct booking so that you have an idea as to where you can add your payment processors.
SET UP RATES AND ADD PAYMENT METHODS
Once you are done with the payment processor, set up the rates of your properties and then add the payment methods which can be used by customers to directly book accommodations on your website. You can add options like CC payments or other Internet Banking systems or so on for your modes of payment depending on those most prevalent in USA.
ADD WEBSITE AND PROPERTY CONTENT
It is important to add the content to your website which is rich and qualitative and includes information about your property as well as the various types of renting systems and amenities present. Make your content interesting and easy to navigate. You can do so by finding the most trending contents in your industry in USA and taking inspiration from them.
CREATE DIFFERENT ACCESS LEVELS
Once the website is created, set it up with different levels of access to maximize the security of your business as well as clients due to the fact that in direct booking websites, payment methods are involved, and weak security can cause a massive data breach and a problem down the road. Find out the main security protocols used in USA based websites and incorporate them accordingly.
IMPLEMENT STRONG PASSWORDS
Strong passwords and two-step verification methods can greatly avoid data breaches and security issues while also providing a certain level of assurance to your clients that their information is in safe hands and will have minimal chances of being violated.
UPDATE SECURITY SUBSCRIPTIONS
Ensure that the security subscriptions provided by your host providers, or your CMS are up-to-date and strong. Keep a check on regular intervals and strengthen if any minor problem is found so that it is not out of hand in the later times.
Creating a secure direct booking website is a difficult task to accomplish on your own but can be easier if you follow those steps. Alternatively, it is always a good idea to hand it over to the professionals. WebDesignVR is a web design and development company in USA which provides affordable web development services in USA and is one of the best SEO service providers for SEO services in USA. It is a website design and development service provider company which focuses on providing you the most professional web development services in the most affordable manner. Connect to us today to get a quote for your vacation rental website.