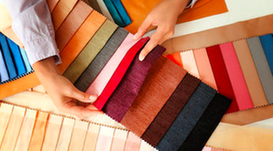 What is the fabric?
A fabric may be a cloth that we produced through knitting, weaving, or structures. Some people produce fabrics by felting, braiding, and twisting. Earlier, there were mostly plain fabrics that were in trend but today, we have modern technology and we can create any kind of fabric material with different kinds of use of threads and yarns. You can mix any kind of color, pattern, and design to our fabric, all thanks to the latest technical developments. Today, fashion is one of the biggest industries in the world and millions of businesses are running worldwide successfully in it.
Types of Fabric
Cotton Fabric
Cotton fabric is one of the oldest fabrics in the world. It is the most commonly used type of fabric to create different variations of fabrics. Cotton fabric is derived from seeds of the cotton plant which emerge in a round fluffy formation once the seeds get matured. The evidence of cotton fabric is found in Rakhigarhi and Mehrgarh in approximately 500 BC. The Indus Valley civilization could flourish in the world due to cotton cultivation which provided people with a source of earning and to fulfill the needs of fabric in society.
Rayon Fabric
Rayon is a semi-synthetic fiber widely used in making different fabrics from clothes to bed sheets to tire cords. It is made from natural materials like Bamboo and beech trees. It has to go through intense chemical processing to be a fabric. It is not considered a fully synthetic fabric as it is made from natural raw materials. Rayon fabric can be used with different types of fabrics like cotton, silk, wool, and others to create a blended fabric. Fabrics made from this fiber are known as soft, absorbent, and comfortable.
Wool
Wool is made from wool animals like sheep and after checking its quality, the manufacturing process starts by spinning and developing the fabric. It is one of the fibres, like angora, mohair, qiviut, and cashmere, that has protein units in its molecules. A fabric is created by weaving together the long strands of spun wool. One of the most popular fabrics, it can trap heat and keeps you comfortable on chilly days.
Georgette
In addition to being created from pure silk, viscose, rayon, and polyester can also be used to create the crepe fabric known as georgette. Crepe georgette is woven with tightly twisted yarns which create a slight crinkle effect on the fabric surface. Silk georgette is very much similar to silk chiffon and a kind of crepe fabric but georgette is not as sheer as chiffon due to tiger weave. Georgette fabrics are sometimes sold in solid colors but Georgette can be made with colourful floral prints and can be printed too.
Silk
It is a natural protein fiber, woven from silk yarn and produced from certain insect larvae to form cocoons. It is produced from various insects but the silk of moth caterpillars is the most widely used form for silk fabric lovers. It has a good absorbent quality which makes it highly desirable in warm climates. Silk is also used for making parachutes.
Nylon
Nylon is a thermoplastic silky material that can be processed into clothes, fibers, films, and shapes. They are highly synthetic and have high tensile strength which makes them resistant to wearing and tearing. The fabric is quite stretchable and used for making socks and stockings.
Decision Time
Earlier, there were only natural fabrics due to the lack of technological advancement. These days clothes are manufactured due to their quality and effect on the user. Cotton is a versatile cloth and is used with different types of clothes for getting blended forms. Silk, rayon, and nylon are synthetic and multipurpose fibers used to create uncountable variations of clothes and other home accessories.