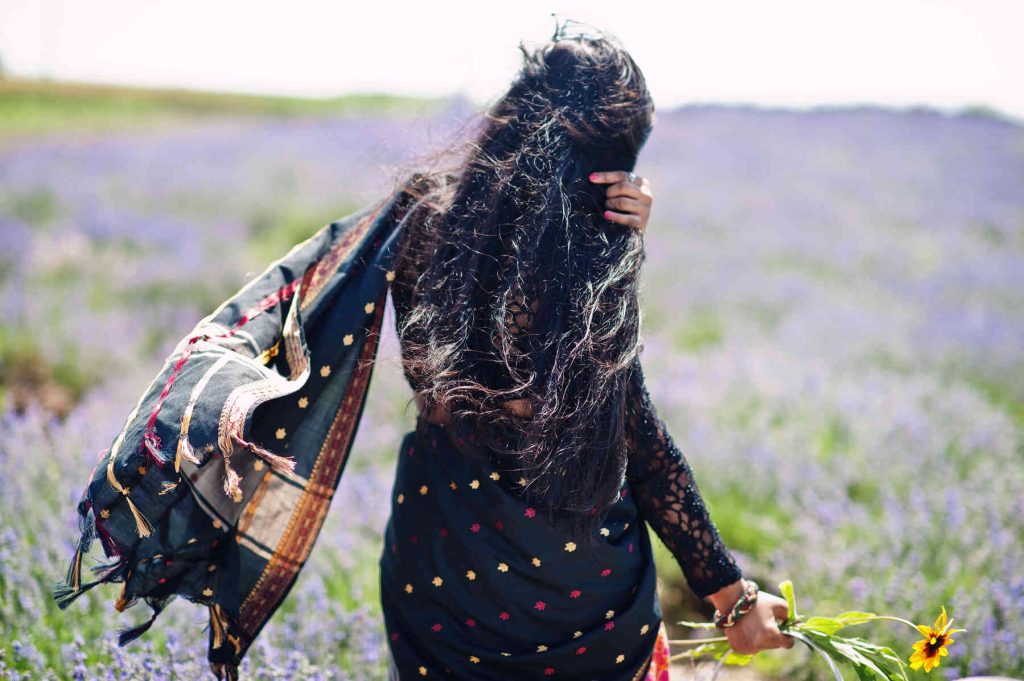 Saree is one of the most loved ethnic and cultural outfits in India to bring out the natural beauty and curves. Saree has been the center of attention in India for centuries in the Indian fashion industry. The appeal of the saree is still strong as ever and the vibrant color of the saree and blouse makes it astonishing.
Over the years, there are a lot of successful innovations and experiments done for the saree and its fabric. The evergreen sarees are still alive with new designs pairing them with dhoti pants, modern cut pants, palazzo, and pants.
Advice on How to Select the Best Sarees for your Body Type
Saree for pear-shaped body
If your hips are wider than your bust, you have a pear-shaped body. Indian women are better off staying away from mermaid cuts. It can make your lower body look bulkier than it is. To strike a balance between your upper body and lower body, go for fabrics like chiffon and georgette. When we talk about brightness, colors and pastel shades will look great on women with this body type. The perfect drape for a pear-shaped body is the seedha pallu style which will be proportional to both parts.
Sarees for an hourglass-shaped body
Indian women with an hourglass bodies have proportionate hips and busts with defined waists. For such a voluptuous body, a saree is the best mate. Chiffon, net, georgette, and silk saree will be best suited to her. These fabrics complement an hourglass body shape. Sarees with dark colors and embroidery work well for them. Also, crisscross striped blouses should be used to give an appealing overall look.
Saree for tall and slim body
If you are tall like Catrina Kaif, this saree will perfectly suit you. Large prints, bold colors, and heavy borders are some key elements of this body shape. Because a large printed saree will make you look shorter in the picture, taking the spotlight away from you. Net and lace work saree will give you a gorgeous look. Also, your saree and blouse should match to give a complete look.
Saree for petite body
You are short and thin if you have a petite body type. For such women, the traditional Indian saree should have thin borders to make you look tall. Big prints and heavy borders are a big no for such women. Heavy embroidery and medium prints are much-needed elements to go for a saree. Choose a blouse that goes well with the saree and gives an illusion of height. Detailing on a saree is a key element otherwise plain saree will make you look short.
Saree for plus size body
Plus-size women should avoid saree fabrics like cotton. These fabrics will make you look bulkier. It would also be wise to stay away from big broad-printed saree. Instead, go for a heavy silk and chiffon saree for a balanced body appearance. Linear prints, tiny motifs, and dark and bold colors are the best saree element for you. For the blouse, go for a deeper neckline and full sleeves. Nivi draping style will suit you most to you.
Saree for rectangular body shape
If you have all sections of your body in the same shape, you have a rectangular body. This body type is also famous as a supermodel body. For you, sarees fabrics that add spark to your look are brocade, cotton, organza, and tissue. To prevent the rectangular look, wear large prints and a bold saree with deep neck blouses.
Conclusion
Fashion designers have a great saree dressing sense and if you don't know which saree will look awesome on your body shape, read this blog carefully you can also suggest to your family and friends the best look according to your body shape. So now on, select like a designer and spread your fashion vibes all over to your loved ones.