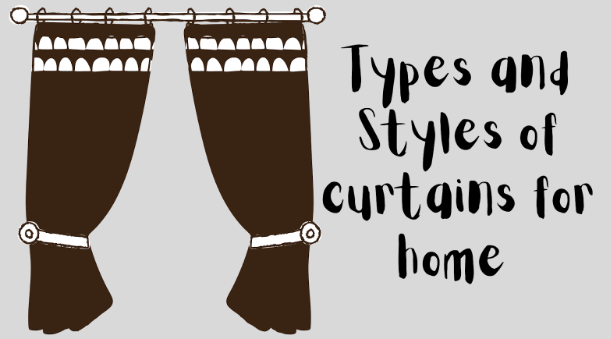 WHAT IS A CURTAIN?
A curtain is a piece of fabric used to block sunlight, unwanted air, and dust particles and most importantly make your room look beautiful. Curtains come in many different styles and fabrics each having its unique propositions. The textures and prints make every curtain different from the others. Curtains can either make or break your home's interior. As they are the first thing one notices when they enter the room. A room's personality is guessed by the curtain hanging in it, it might be quirky with bright colors or sophisticated and luxurious with velvet. The length and width, the patterns and textures, the colors and prints, everything matters when choosing the right curtain for your perfect room. In the article, you'll find different types and styles of curtains and even what kind of opacity these curtains have. 
TYPES OF CURTAINS
Single panel curtains are single-piece fabrics hung beautifully over a rod on a window or door. These are mostly used in sliding or our regular windows, cotton curtain fabric are used to get some privacy for the room. They are easiest to use as you just have to collect the fabric to one side to open or close the curtains due to it being a single slider. They come in regular and some basic modern styles.
Pair panel curtains are two identical pieces of fabric hung beside each other, which can be pushed on either side of the window to allow natural light and air to come in. you can tie them at the center on both sides when opened to give a more beautiful symmetrical look.
Liner curtains come in both single and pair panel curtains. Usually, these are added to sheer and semi-sheer curtains to avoid letting sunlight and air in the room. You can hang them behind your curtains, so you can open your front curtains and still let light in but avoid harsh rays. They come in classic, contemporary, and modern styles.
STYLES OF CURTAINS
Every home is different and unique from others. The curtains you choose should go well with your home decor and interior. Let's go through some of the most popular styles of curtains.
Usually found in eyelet format, these casual curtains are made from many different materials which makes them ideal for kitchens, bedrooms, and bathrooms due to their simple look. They are made without any add-ons or embellishments on them.
Traditional or Classic curtains
These curtains are found in a wide range of textures, patterns, and materials. They come with many accessories and embellishments due to their versatility. These curtains can be used in any part of your home. The valances which are used to give a traditional appearance are hung or draped on the upper part of the curtains.
These curtains are made with light fabric with many geometric, abstract and minimalist designs giving your room the desired modern touch, the material used is usually eco-friendly and these curtains are ideal for those who love modern and minimalist designs for their interior.
Contemporary curtains are for those who want their space to look more spacious and less crowded, these curtains usually come in warm tones and can also be matched with brighter tones according to your interior. They give your room a sophisticated and simple appearance making it soothing to the eyes. These curtains are great in texture and come without many accessories.
OPACITY OF CURTAINS
The transparency or the sheerness of curtains usually depends on the fabric used and which results in how much light, noise, and privacy is let into the room.
These curtains are made from fabrics that have features of transparency, they provide the least privacy with the most natural light in the room. People tend to think of these curtains as just a decorative material but they give your room a light breezy look.
These when compared to sheer curtains are less transparent, which lets less light, and noise in the room giving more privacy to your room.
When these curtains are closed they do not let any light or noise enter the room, which results in a total blackout in the room. The material used in these curtains is heavy and thick to block unwanted things out. These come with a pre-attached lining for privacy. These curtains can be hung anywhere where you want blackout, be it your room, living room, or theater room. Blackout curtains come in neutral or solid colors the most which allow people to pair them with sheer curtains for a more sophisticated and luxurious look.
CURTAIN HEADER STYLES
Not just fabrics, patterns or designs, curtains come with many different header styles. Here is a list of some of the commonly used headers.
If your curtains are not opened regularly, this heder style is perfect for you. Rod pockets are sewn-in in the curtains to be hung on the rod with some embellishments or decorative materials on it. These are usually attached with valances.
One of the most ancient forms of curtains which you might have found in one of your old relative's homes. For a gathered look these are sewn together in the pleats format. According to your pleat patterns, you can use hooks, rods, or even rod pockets for them to be hung.
These curtains have hooks or kinds of tabs at the upper part so the cross can easily pass through them. You'll find these tabs and loops embellished with buttons, ribbons, or similar materials. They do not gather, they lay straight on the window which works well for simple yet modern homes.
These curtains have a ring hole structure at the top of the curtain for the rod to move in and out. These curtains let the rod be visible, these curtains go well with contemporary or modern style curtains.