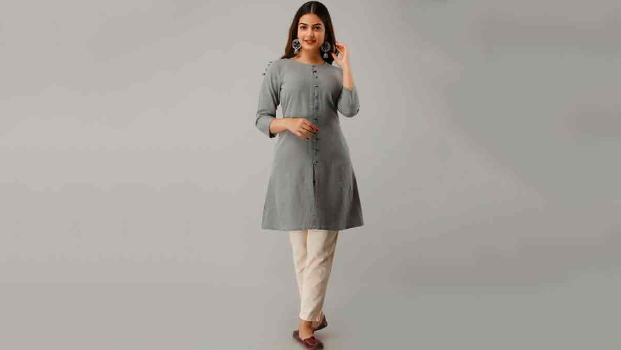 The special thing Indian women feel about ethnic wear is comfort. A Kurti is one of the most well-liked clothing items for women in India. Most Kurti designs are best suited and beautiful in the Indian context. Most of the Kurti designs are beautiful and well-suited for the body frame of Indian women. There are lots of girls who love ethnic wear in their daily routine and love to pair them with different outfits. Being comfortable and easy to wear, Kurtis can easily be mingled with western outfits like skirts, trousers, and jeans.
Add an extra layer to your A-line Kurti
If you are looking for something breezy and light, Choosing an A-line Kurti will work best for you. Style this Kurti with straight paints in a smart casual or formal approach for one of the greatest results. Choosing a button pocket, mandarin color, three-fourth sleeves, and a symmetrical hemline is all that you need that you love as casual wear.
Slit shirt Kurti to flaunt your front
For those who want to have a great fashion sense, this Kurti design is for you. The essence of wearing a Kurti style is about looking fashionable and chic by focusing greatly on wearable styling. Wearing this women's Kurti design will make you look ravishing and confident. This Kurti style will help you get the look you are imagining and will be able to impress others too.
Make a Statement with Handkerchief hemline Kurti
The third kind is a sophisticated handkerchief-hemmed kurti style. This Kurti design, which is among the most popular ones, was created by some of India's leading fashion designers. One of the ideal outfits for a light summer look is the Kurti with the handkerchief hemline. The advantage of wearing this type of kurti is that it creates a chic and alluring appearance. The fabric is gentle, fashionable, and at ease for regular wear.
Asymmetrical Kurti to Add Class to your Look
These trending and popular asymmetrical Kurti designs are good enough to give you an edge over others. This special Kurti style has different properties like front-side cut and backside cut. With its unique cuts, this women's Kurti design is suitable for college girls and small gatherings. To make this outfit more appealing, you can team up it with pencil-cut pants and a pair of palazzo.
Show your royal side with an Anarkali suit
Since its popularity during the Mughal era, the Anarkali style has been popular with girls and women for generations. Anarkali style is most loved by girls and women because of its flares and frock-ish pattern. It does not matter what you present, but it has a delicate and stylish look that suits all ages of women.
Coldhoulder Kurti for Your Everyday Style
You must have tried that cold shoulder outfit in western wear but now it has become a popular trend in ethnic wear as well. With a 3/4 sleeve and a cold shoulder for your Kurti, this most recent Kurti style makes you seem chic and contemporary. You can wear this dress for your outing.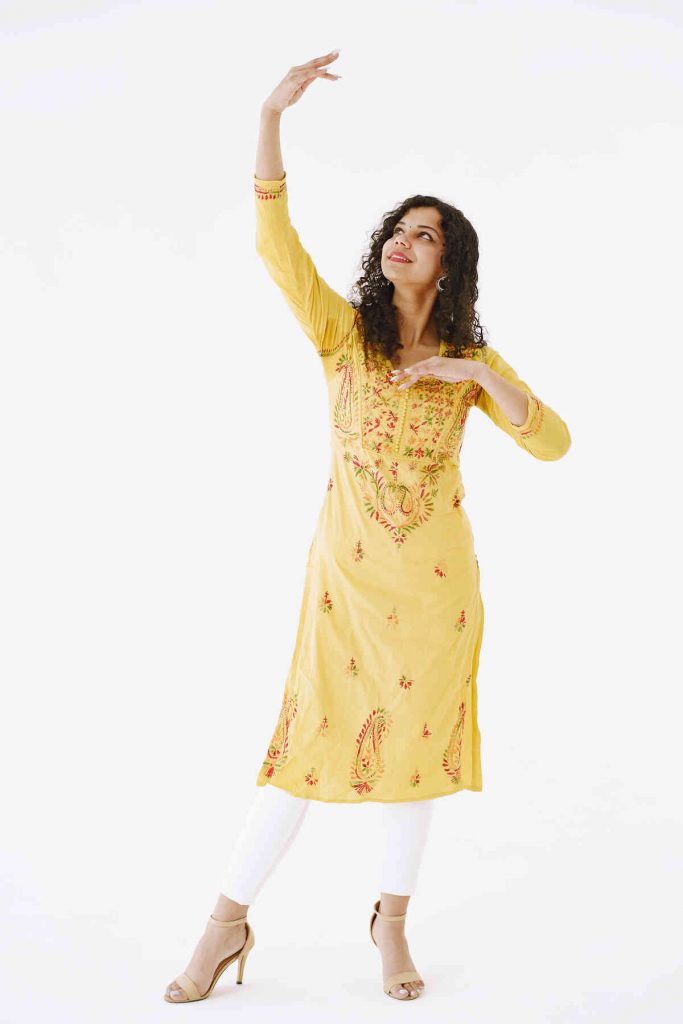 Statement Sleeve Kurti for fashion lovers
This type of sleeve Kurti design can make your day. Statement sleeves are renowned for adding richness and volume to your outfit.
It not only adds a style statement but also is comfortable and airy. This statement sleeve Kurti is good enough for your formal and informal outings and accentuates your panache.
Final words
Modern women prefer to wear trendy and stylish Kurtis and look smart and chic in these Kurtis. Today, you can buy online women's apparel and can select any of your choices. You need to go through this blog to know about the latest and happening Kurti trends.