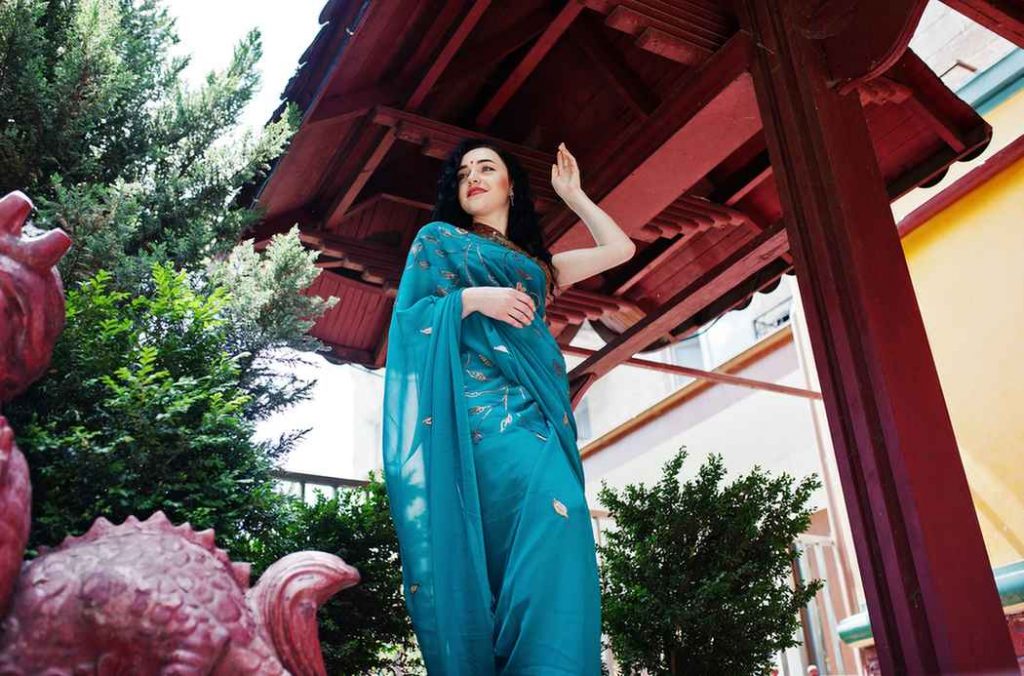 As you know, sarees are traditional Indian costume and their trends keep on changing. Earlier, cotton sarees were in trend but today, we have multiple fabric sarees like georgette, silk, organza, satin, and some others that are popular in the market. Let's explore some latest sarees trends for wedding and party celebrations.
An Embroidered Saree
Celebrities love to wear embroidery sarees at some celebrity functions. Recently, Karishma Kapoor was spotted wearing an embroidered saree at Alia Bhatt's wedding. The embroidery saree looks fabulous on you and you can do creativity with this as per your liking. The intricate craftsmanship, detailing, and sheer beauty are bespoke. If you are happy to follow this pattern, we suggest a net embroidery saree.
Soft Silk Sarees
Although silk sarees are trending, pastels appeal most to those who are trying to wear a saree for the first time and give a traditional feel with a pop of contemporary color. Silk sarees have always been in fashion and timeless fashion pieces of fabric. You might get hypnotized by its silky touch and plush. For a long time, pastel silk sarees became popular among women who love trending sarees as their favorite outfits for family occasions.
Organza Sarees
The organza saree has a romantic feel that you will love most. Organza sarees have a fashionable appearance and fetch other attractions for them. They look more seductive when worn with floral patterns and soft hues. They are opulent and found flattering on all body types. For today's bridesmaids and bridals, the silk saree is the most suitable option. An organza saree ought to be in your wardrobe by 2022.
Multi-Color Saree
Multi-color saree beats traditional designs. It is rocking for any party, wedding celebration, or family function and was found outstanding. You would love to adore this Sabyasachi and you will feel like pulling it off and looking like a celebrity with a multicolor vibrant saree. The great news is that this saree is available at most of the stores near you. The one who enjoys the company of colors will feel these vibrant colors and enhance your look the way you want.
Net Sarees
Despite looking at traditional sarees, look at this net saree which has a unique allure that appeals to everyone. Net sarees are popular sarees that go well for cocktail parties. They are available in different colors such as red, blue, and yellow pastels. They are amazing net sarees that are taking over the fashion trends and are loved by young women for their fashion appetite and look more seductive in these dresses.
Sarees with sequins
Another great example of making a saree is this glitzy sequin sarees. Everybody is aware of the fashion sense and the majority of fashion trends are inspired by celebrities. Bollywood divas have set themselves as style icons by participating in fashion shows and advertising fashion products. Sequin sarees have made a new entry in the world of sarees inspired by Bollywood celebrity's inspirations.
Pastel saree in silk
Silk sarees are timeless and remain popular in all walks of life and time in India. But pastel sarees are new in the trend and not going away soon. A pastel saree is like a dream outfit that translates class and subtlety. The saree is available in the market and has as many family heirlooms as you want.
Decision time
Pastels, net, and sequins are a few of the most popular sarees these days. Celebrities like Deepika Padukone, Sonam Kapoor, and lots more promote new trend-setting sarees in fashion shows and make their fashion statement that ladies follow for their wedding ceremonies and family functions. You can choose the saree of your choice from mentioned types and can leave a lasting impression on the guests at the function. Make your choice now.