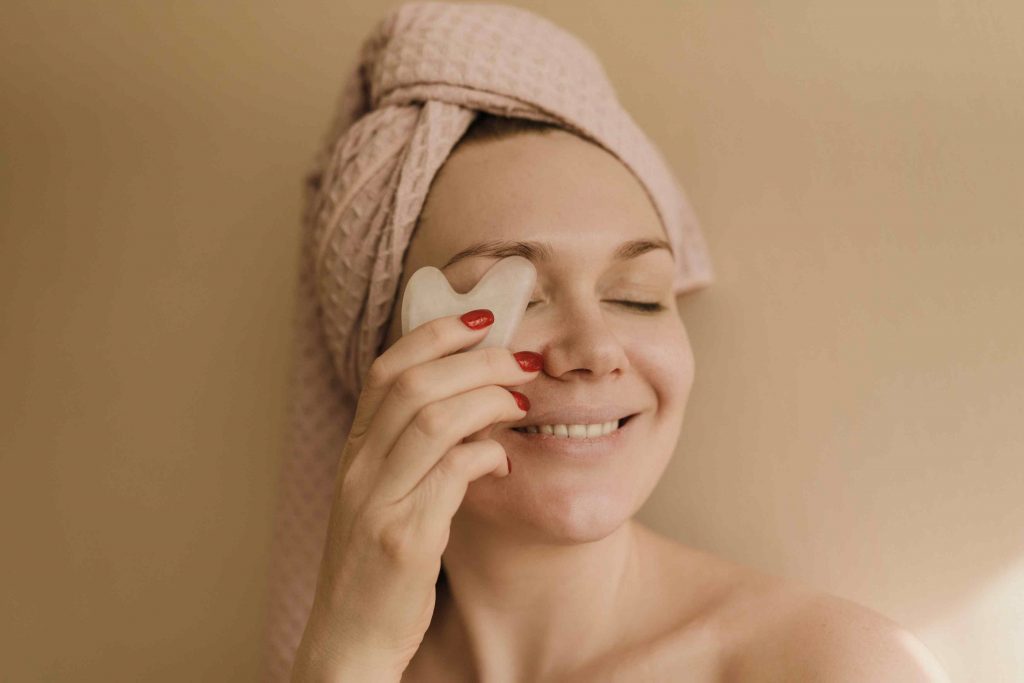 To get perfect glowing and flawless skin is everyone's desire. Many people experiment with their skin by applying different products or based on the recommendation of beauty experts. The skin type varies from oily to dry.  If you are applying any makeup product, first try to analyze your skin type. There is no need of applying expensive products, basic healthcare routine can help in getting glowing skin. Let us look at some tips:
Hydrate yourself regularly. Keep a bottle of water when heading out. Sip at least 2 to 3 litres of water daily. This will help in moisturizing and glowing the skin. Hydration is very important for skin glow. 
Stepping out, apply sunscreen in every weather you move out. Sunscreen can prevent you from the skin damage, skin burns and the cancer. A variety of sunscreens are available in the market. The one with the value of SPF ranging 15 is efficient. I prefer SPF value 30 when moving higher on mountains.
How do you keep your body reflected on your face? Having a proper diet containing all the vitamins and nutrients with proper exercise is the best way to stay fit. Regular daily exercise goes a long way to living a healthy life.
Taking an adequate amount of sleep and rest is important for your body. This will not help to relax your body but improve your skin tone. Adequate quantity of sleep is compulsory for the body and mind. Lack of sleep can lead to body restlessness and affect the skin negatively.
Try to avoid oily and fermented foods. Oily foods can affect the skin by causing pimples. Eat raw fruits and salads as it is high in vitamins, minerals, and fibers. Involve all the essential nutrients in your plate. Your diet should have a composition of vitamins, minerals, fibers, carbohydrates, iron, and other nutrients. In liquids, orange juice and fresh juice are taken.
Lower your caffeine intake
Coffee and tea once a day are good. Taking a large quantity can disturb your sleep patterns. Sugar intake can make your skin look older. It also causes the waistline and induces fat in the body.
Stress can cause the production of hormones, making the skin look oily. Stick to some of the stress management practices like yoga, and breathing exercises. Give at least 15- 20 minutes daily. But while taking care of the whole body, do not neglect your face. A smile is most important as it will help in toning the muscles.
There is a long history that is attached to Ayurveda and beauty products. Spices and various other food ingredients are used to make the paste and powder that is used to enhance beauty. The basic ingredients that are used for beauty treatment are turmeric, gramflour, curd, lemon, sandalwood, baking soda, coconut oil, olive oil, milk, and honey. Peels of banana and orange for making a paste, ubtan can be made with lentils, rice, and oatmeal. The history describes that breathing right can be beneficial for skin and can fight acne and pimples.
If your skin is dry, moisturize with the cream. After removing makeup, wash your face and moisturize your face. Face masks are available with different ingredients. Choose the one that is required according to the skin type. Hydrate your skin by applying the sheet masks. You can create your DIY packs.
Heading to the bed, remove your heavy makeup with cotton. Remove slowly, otherwise it will cause the itchiness and dryness of the skin. After removing, wash your face and apply moisturizer. Your face will breathe easily.
Pamper yourself. Massage your face in a circular motion upwards or downwards. Choose the oil according to your skin types, such as olive oil, cod liver oil, or coconut oil. Minimize your hot shower time. As spending more time in a hot shower can absorb the oil from the body.
The way to get naturally perfect glowing skin is tough, but not impossible. Dedicating your little time will bring changes. If you are applying any products and are experiencing itchiness and irritation of the skin. Stop using the product immediately. Talk to an expert dermatologist or a skin doctor and find about your skin type.