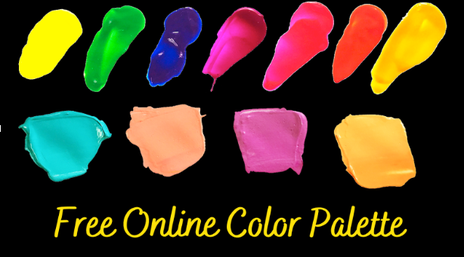 The biggest task one has when they are designing anything is to choose the right color hues palette for the entire design. And to create a color palette that looks professional can be a real task and time-consuming.  This article is going to help you save that time and go out on a picnic with your family.
This article is all about color palette generators you can use to get a perfect color palette for any design you are planning to make with just a few clicks.
Few of these generators will even help you find hues based on trendy colors like flat or material colors, they have hex codes too which you can copy-paste to use the exact shade of the color for your website. And the biggest flex is they are free of cost.
TIPS FOR CREATING PROFESSIONAL COLOR PALETTES
Before jumping right into the list let's learn how to do the basics of creating the perfect color palette.
DIFFERENT TYPES OF COLOR PALETTE
The first thing you should know before choosing a color palette is to be aware of four different main types of palettes
Monochromatic – monochromatic palettes are those which have different shades of the same color. These are the easiest to make and you'll find them used in many popular brands.
Analogous- this means if you are choosing a color the color right next to it can be used with it as a secondary color on the color wheel.
Complimentary – complementary colors are opposite colors in the color wheel that will complement each other.
Triadic – these palettes have three main colors in their palette, these are used to create clear visibility in the designs
With everything known you should also learn about color theory.
CONSIDER THE COLOR PSYCHOLOGY
There are many factors of color that affect human psychology. As per color psychology, graphic design courses in surat every color has a strong effect on triggering the emotions of humans. As color black is mostly used by luxury brands as it depicts elegance, mystery, and dominance.
USING COLOR TRENDS
Before creating a color palette make sure you study the color trends, most importantly when you are planning to use them for a modern brand or for a website that you have started just now, as trendy things play an important role in the targeted audience.
Trends change frequently, so it is important to keep yourself updated with the trendy set of colors.
MAKE REAL PHOTOS YOUR INSPIRATION
The colors inspired by real-life are the best ones. If you are planning for a practical or something which is inspired by nature you can choose real pictures as your inspiration. There are many tools and apps which will offer you a color palette based on photos and images as well.
BRANDCOLORS
If you ever plan on stealing any brand's color palette or want the exact tone of color the brand has used, brandcolors is a website you'll be needing. It is home to many color palettes of popular brands.
COOLORS.CO
An ideal generator of color palettes for beginners, coolors.co lets you use and create color palettes from the start or even customize the palettes of others made. The tool even allows you to choose colors from your uploaded picture.
COLOR HUNT
Designer-made color palettes are stored at a color hunt. You can browse and find yourself the perfect one according to your preference and popularity. As these are already crafted by designers you can just pick them and get back to work.
COLORMIND
Colormind lets you lively view your color palette on an example design. It even lets you switch between the template and website easily. By getting yourself a color palette you can even create a new color palette from an image.
COLOR DESIGNER
This app is suitable for even the professional color palette, this color palette generator is an advanced one. This tool helps you to create a color palette of three system swatches, a color picker, and a mass editor. Every system has its own set of features to use.
You can change the tints and tones and even the shades of the color after choosing the base color.
PALLETON
The more advanced features have a complex set of tools to create a color palette. In the beginning, you'll find the tool a bit difficult to understand but once you get the hang of it you can easily create mesmerizing graphics. This tool lets you create a color palette by using monochromatic and traid ways.
CANVA PALETTE GENERATOR
Even with basic features, this canva palette generator does a number of things. This tool has a very basic feature: you upload a picture, and it will create a palette automated from the main colors. You just have to copy the codes and voila you are good to go.
ADOBE COLOR WHEEL
By the creators of adobe, this professional tool is made, it is an advanced color palette generator. This tool helps you create a color palette from all four methods, monochromatic, analogous, triad, and other types. You can even upload a picture to get a color set for you.
KHROMA
This tool uses AI technology to generate a color palette, all you have to do is choose the initial 50 shades of colors so the AI can generate the color palette accordingly. This will help you to choose further in the future.
COLORSPACE
One of the easiest ways to generate a color palette is using colorspace. All you have to do is add a color hex code which will generate a few options for you.
COLOR TOOL
For web and UI designers this tool is the perfect one for them. This helps in creating a material design color palette with the help of accessibility and user interface. This even lets you preview live changes.
COLLOR
This tool provides a simple experience of generating a color palette, all you have to do is choose a primary and secondary color and this tool will generate a series of color palettes for you to choose from which you can customize, the only con this tool has is it needs flash to be on of your browser.