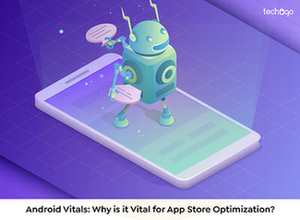 To determine the performance of an application, Google uses Android Vitals. It is one of the factors that ensure your android app works properly. 
Poor performance, excessive battery usage, frequent crashing, and slow responses are some of the main issues that users mainly encounter while running the apps.
But, the main concern is identifying the app's unsatisfactory performance. So, for that need, we have this tool as the savior.
As an entrepreneur, it's your motive to provide the best satisfactory result. Therefore, the use of Android Vitals is mandatory.
You can enhance the performance while working on the bad behaviors and thus gain benefits like improved performance and installations. The users will be ready to consume their time and money if the app works tremendously.
So, if you want to know more about App Vitals, move towards the remaining guide. Moreover, you can connect with the best android application development company to gain a better insight.
Get Insight into Android Vitals
This tool lets the developers know the performance of an app. It makes the application move faster while keeping stability at the topmost. Moreover, it operates its functionalities with features like real-user metrics (RUM) that calculates battery usage, start-up time, and render time.
Android vitals consists of some core metrics. Move towards the next section to know about them.
Core Metrics of Android Vitals
Get insights into the core metrics that Google looks into while calculating the performance and stability of your application.
Crash Rate
Crashes can turn the whole game of your digital product. Definitely, no user wants to use such apps that crash frequently. Not only is it frustrating but can negatively impact the ranking.
ANR Rate
Apps not responding, such errors are quite common to see when users want to open a specific application. However, Google considers it bad if there is one ANR in 0.47% of use.
What do Real-User Metrics Calculate?
Here is more for you. Read this section to learn what real user metrics calculate.
Stability
Stability ensures the seamless performance of an application while calculating the ANR (App Not Responding) or crash rates. Thus, it imposes a penalty on all digital solutions that are corrupted with such errors.
Processing Time
It calculates every minute and second consumed in loading the application. So, every app that takes much time while open is recorded in the real metrics. Therefore, ensure that you do not put such features that impact your digital solution's loading speed and time. The right android application development company will help you build such a project that will successfully pass all these metrics and let you grow in your field.
Battery Usage
Battery draining does not let your application perform extraordinarily. If your app consumes more battery while running on the device then ensure to take efficient measures to resolve it right away.
App Starting time
Users start the app in different ways like immediately starting after closing it, opening it while doing any other operation, or just starting it. The tool measures this too so that the user gets effortless performance while running the installed applications.
How vital is Android Vitals?
How android vitals works and improves the App Store Optimization is given in this section. Make sure to learn further.
As per the measures of Android vitals, the data should not exceed the limits set by Google. If somehow, it happens, Google play will penalize your application which may bring you consequences like less visibility.
Also, your digital product may frequently crash if the loading game is not perfect or, it has a record of a higher ANR (Application not responding) rate. Android Vitals shows you the progress graph by analyzing your keywords. That growth chart you can use to estimate your growth. Thus, make proper alignments to improve the ranking factors.
To Sum it Up!
Making your app stands out from others is a tough task. If you have this thought, let us clear to you that everything is possible with the right skill sets and knowledge. You can take support from the top mobile app development company. And, with their support and guidance, you take care of all these metrics even in the development stage.
Instead of finding the right time to connect with the experts. Book a consultation today and develop such a product that will never be in the clutches of Android Vitals.
However, if you have any more doubts and want us to cover more on this topic, don't forget to drop your queries below. Until then stay tuned for all the latest tech info.