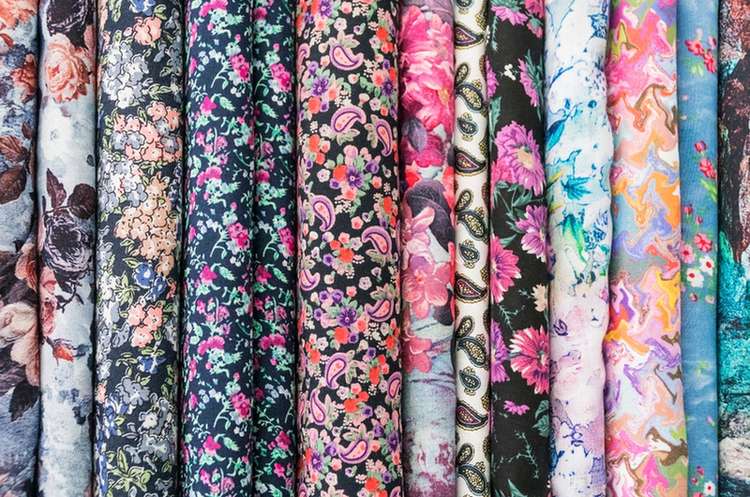 As we enter 2023, the web is awash with predictions on the year's fashionable colors and clothing trends. However, we took a different approach and consulted with experts to uncover the most popular fabric prints that will revolutionize the fashion scene in 2022-23. Here are the top trending fabric prints to watch out for.
Exotic Florals
Floral prints are timeless and remain popular across different seasons, making them a versatile choice for fashion designers. In 2022-23, floral prints are expected to continue dominating fashion trends. Designers have the freedom to experiment with various styles of floral prints, including small, applique, painted, stamped, or graphic prints.
Mesmerizing Earth-Inspired Prints
The issue of climate change has been at the forefront of news and discussions for the past couple of years, and now designers are incorporating this theme into their textile prints. In 2023, we can expect to see prints featuring splashes of colors, dissolving patterns, and cloud-like designs. Additionally, grass blade strokes and lush green prints are set to be among the top trends for the upcoming years.
Heritage and community-inspired prints
The influence of heritage, culture, and community on our lives is significant, and designers are embracing this trend by incorporating it into their textiles, making it a popular choice for 2023. Expect to see prints that depict quirky urban legends, hand-drawn maps, and landmarks that pay homage to local culture and history, making them a must-have in the upcoming fashion seasons.
Eye-catching animal prints
Animal prints have remained popular for decades due to their sensual, dramatic, and glamorous appeal. They are set to remain a dominant force in fashion trends, with tiger stripes and snake scales standing out as the top animal prints for 2022-23, in addition to the well-loved leopard, cheetah, and ocelot prints.
Stylish large-scale prints
This year, large-scale patterns are making a comeback in fashion, thanks to the drama and extravagance they add to gowns and dresses. These prints are set to make a statement in the textile industry, allowing emerging designers to create stunning collections.
Rajasthani tie and die prints
The traditional Rajasthani Tie and Dye print, commonly known as 'Bandhani', has made a significant comeback in the fashion world. This elegant and charming print has captured the attention of both men and women, making it a popular choice for the coming years. In 2022-23, designers are expected to experiment with crumpled, folded, and spiral patterns, while sunburst, shibori, and lighting designs are also expected to be on the must-try list. The versatility and beauty of this traditional print make it an evergreen fashion statement that is sure to stay for a long time.
Timeless checks
The classic check print has been a mainstay in the fashion industry for decades, and its popularity is only set to grow in the coming years. This timeless print exudes a sense of romanticism, decadence, and aesthetic appeal that makes it a go-to choice for many designers. With every inch filled with exuberance, elegance, and luxury, checks can be used to create breathtakingly beautiful garments that are sure to turn heads.
Charming block prints
Block print fabrics are a timeless classic that exudes elegance and glamour. Despite the massive transformation in the textile printing industry, nothing can match the sophistication of block prints. As we look ahead to 2023, block prints are set to make a big comeback in the fashion world. Bagh, Ajarak, Sanganeri, and Dabu are some of the top trending block prints to watch out for in the coming years. These prints offer designers an opportunity to create timeless collections that showcase the beauty and artistry of block prints.
Chic Herringbone prints
The Herringbone print, named after the structure of the fish's bones, has been creating a lot of buzzes lately. Fabrics Designers are in love with the print's charming and classy look, and it's predicted to be a big trend in the coming years. From baggy overcoats to pencil-fit pants, the Herringbone print looks stunning on everything. It has even been making a name for itself on the international fashion stage. Upcoming designers can also experiment with this print to create their own stunning clothing collections in the near future.
Conclusion
There are several fabric prints that are expected to dominate the fashion scene in 2023. These include timeless classics such as florals, animal prints, and checks, as well as more unique and trendy options like climate change-inspired prints, herringbone, and large-scale patterns. Designers are also incorporating heritage, culture, and community elements into their textiles, making these prints another hot trend to watch out for.
Additionally, block prints and bandhani tie and dye prints are set to make a comeback and are expected to be popular choices for designers in the upcoming years. Whether you're a budding designer or simply a fashion enthusiast, there are plenty of exciting fabric prints to look forward to in 2023.