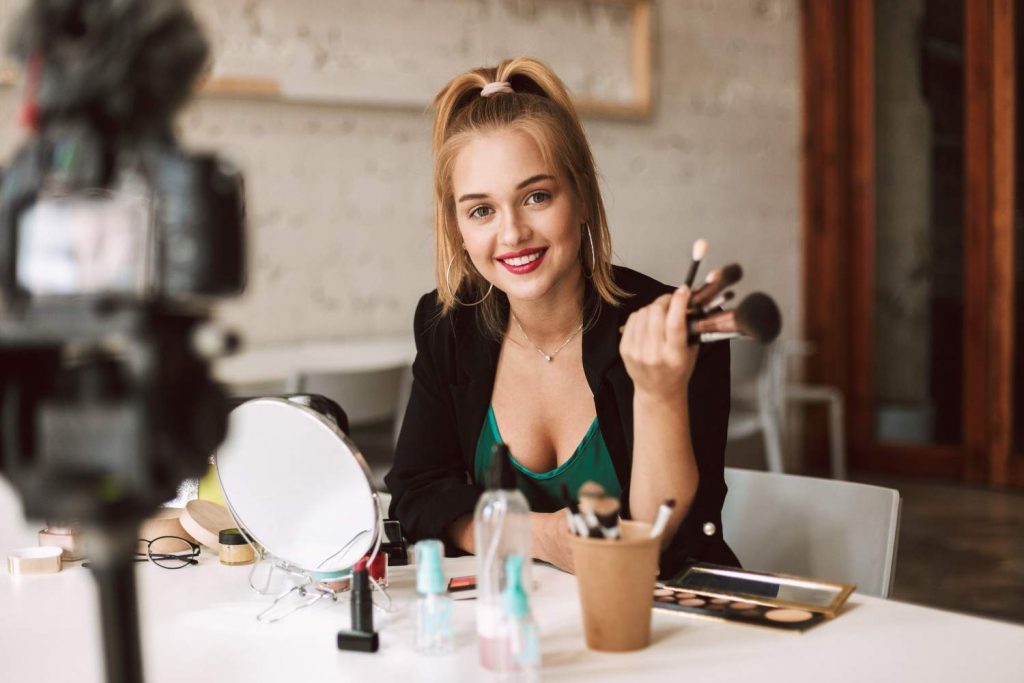 Everyone wants to look their best self. Beauty holds a special meaning in our life. It makes us feel bold and confident. Relieves stress and improves our mental health. Beauty empowers us to chase and overcome any obstacles and challenges. Beauty's importance is growing daily, encouraging experts to showcase their talent on the topic. That said, please welcome us as we unveil the list of top beauty YouTubers in India. 
India's best beauty YouTubers inspire a vibrant community with makeup tutorials, skincare routines, fashion vlogs, DIYs, product reviews and unboxing, top picks, how-to's, budget shopping, and more. The attention to detail and the value-added information these subject matter experts pack in every video empower budding enthusiasts to acquire skills to succeed in the industry. 
The leading Indian beauty YouTubers are associated with the influencer marketing agency and have the admiration and trust of a young population that is open to experimenting with different looks and styles. Beauty, fashion, and makeup brands are ready to jump on the bandwagon as working with these YouTubers gives them direct access to the right market – thereby allowing them to generate interest and consideration for their product through word-of-mouth marketing. 
Best Beauty YouTube Channels in India
Ankita Chaturvedi
Ankita Chaturvedi, also known as Corallista, is a UK-based beauty content creator, influencer, makeup artist, and body-positive advocate who has been creating relatable high-quality beauty content for over a decade. She is dedicated to giving women tips to bring their unique personalities to life. 
Ankita Chaturvedi has a diverse fanbase from across the globe. The Indian beauty YouTuber is a certified makeup artist from Makeup Forever Academy, Paris. In her videos, Ankita covers Indian makeup, seasonal makeup, eye-styling, product selection, unboxing and review, skincare tutorial, natural beauty hacks, and more. Ankita has organized her videos into playlists and is beginner to expert friendly.
Shreya Jain
Looking for an Indian beauty YouTuber to give you the best makeup, fashion DIY, and beauty content? Then follow Shreya Jain today.
Shreya is a makeup artist who addresses every beauty-related topic on her YouTube channels. She uploads new content every day of the week. Shreya recommends the best-made beauty products in India. She helps you get budget-inclusive face serums, lipsticks, eyeliners, etc. Furthermore, Shreya creates makeup and fashion tutorials. Celebrity, regional, and seasonal makeup. Product review and unboxing. Beauty vlogs, skin care essential series, style cheat, dressing tutorials, and hair styling videos. She also helps you pick the blessed outfits and jewelry to match your looks.
Arushi Pahwa
One of the top Indian beauty YouTubers, Arushi Pahwa, loves to display her incredible skills and talents in fashion, beauty, skincare, hair care, and makeup to her social media community. She uploads new videos every Wednesday and Saturday. A part of her long repository of helpful Content includes vlogs, makeup tutorials, festive and seasonal makeup, makeup tutorials, parlor makeup, and home remedies for a natural look. Aarushi has one of the most subscribed beauty and makeup channels on YouTube India. Her subscribers grow every day. People find her Content relatable and informative. Top beauty brands are lining up to work with Arushi Pahwa on their promotional campaigns.
Kaur Tips
Sukhpreet Kaur is a renowned makeup, cosmetic, and beauty expert with tons of value-added tutorials on YouTube. She has a dedicated following that provides exceptional engagement to her channel. 
Sukhpreet Kaur got into makeup at a young age. She learned many things along the way, which she shared with her audience. The Indian beauty YouTube talks about DIY, home remedies, makeup, and natural Beauty hacks. She breaks body stereotypes and empowers women to feel comfortable in how they look. Sukhpreet has set herself apart from others in the industry with her oversimplification of complex beauty topics which are easy to understand and apply.
Miss McBlush
Muskan Chanchlani, sister of the famous comedian Ashish Chanchlani, is an internet celebrity in her own right, renowned for her beauty, Lifestyle, and fashion content. Muskan loves to experiment with different colors, outfits, and makeup products. She talks about full-face makeup, celebrity style looks, makeup fun and challenges, hair care, skincare, and more on YouTube. Muskan Chanchlani prioritizes attention to detail, which relates to her massive fan base. The Indian beauty YouTuber keeps interacting with fans for fun and entertaining with exceptional humor. You can find Muskan and her Content on Instagram, Facebook, Twitter, and YouTube.
Akansha Soni
The Indian beauty and fashion community has been ever so grateful for the presence of Akansha Soni, a popular makeup artist, and beauty YouTuber who helps many with detailed makeup tutorials, product reviews, fashion, DIY clothing hauls, and Lifestyle related Content. She frequently challenges to keep her community active and engaging. 
Top beauty brands have worked with Akanksha Soni on promotional campaigns. The Indian beauty vlogger picks top budget-friendly beauty products and makes detailed videos about her experiences. Her insights have had many make informed decisions when buying and using makeup products and accessories.