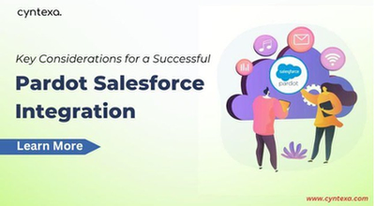 Integration has gained traction in the market for more productivity, enhanced processes, a better customer experience, and maximizing ROI. Among the multiple integrations, one is the Pardot Salesforce integration. 
Leveraging this integration allows you to unlock the true potential of both platforms for your businesses' marketing campaigns. After all, it's been stated by Cloudiate that Pardot has cut sales cycles by as much as 25%, boosted website leads by 63%, and increased email signups by 40%.
So, if you're looking to up your marketing game in this growing market, it's crucial to understand your target customers.
In this blog, we'll let you know how the key considerations help meet the client's expectations and help you maximize your return on investment.
Let's roll on!
Aspects to keep in mind while performing Pardot and Salesforce Sync are following
#1. Determine which connector version type your Salesforce Pardot instance has
It is the first and foremost step to perform the Salesforce Pardot integration. This is because connector versions vary with the type of application you need to integrate. That's why understanding which version you own can help ensure compatibility and facilitate a smoother integration process. 
To check upon the same, go through the following steps:
Log in to your Pardot account as an administrator or a user
Navigate to ADMIN
Find the CONNECTORS section
There, you can check the connector type and its version.
#2. Determine considerations prior to setting up your Salesforce-Pardot Connector
You cannot ensure success until and unless you understand your purpose for Pardot integration. First and foremost, you must understand the reason for integration; to understand this, you must define a clear objective and goal.
Objectives could be anything related to lead management, enhancing marketing campaigns, and aligning sales and marketing efforts. Explore the current state of your sales and marketing processes to see where the gap lies.
You must also ensure that the data is clean and accurate on both platforms; to ensure this, you can perform deduplication and data standardization.
#3. Determine the ideal sync method for your company
It is the most important consideration to look for when integrating Pardot with Salesforce. The integration method defines how the data will flow between both platforms and synchronize between Pardot and Salesforce.
There are multiple sync methods:
One-Way Sync (Pardot to Salesforce)- It facilitates the data flow primarily from Pardot to Salesforce, and it is useful when Pardot is the primary source for lead generation and marketing automation.
Two-Way Sync (Bi-directional)- It allows two-way data flow, which means if any leads come in the Pardot, the data will automatically be updated in Salesforce and vice versa. It is suitable for organizations that require data from both platforms simultaneously.
Custom Sync allows you to define specific criteria or objects according to your choice of primary and secondary sources.
Scheduled Sync- It allows you to schedule synchronization in regular intervals on an hourly or daily basis.
Real-time Sync- It ensures that the data gets synchronized and updated immediately in Pardot and Salesforce. This means if any action is performed on the Pardot, it will automatically be updated in Salesforce before the action gets done. Real-time synchronization happens, which leads to error-free data.
#4. Define a Pardot Integration user
Defining user rights and accessibility can help users modify the functionality, leading to productivity without disturbing the internal or pre-defined flows. You must ensure the user has appropriate permissions and sufficient privileges to set up and configure the integration, access data, and perform synchronization tasks.
So, you should avoid using a personal or shared account for setting up the user. A unique email and strong password should be used for the integration user, and multifactor authentication should be a must to enhance account security. Proper documentation should be formed of the user's credentials, like username, password, security keys, and APIs required.
To Sum It Up
A successful Salesforce Pardot integration is a strategic move that can significantly enhance your marketing operations, campaign performance, and overall marketing efforts. So, to ensure a seamless integration process and guarantee success, consider the key factors discussed in the blog.
By considering these factors, your organization can leverage the benefits of successful Pardot salesforce integration to improve marketing and sales campaigns' efficiency, generate leads, and accelerate business growth.
If you have a team of skilled developers, they will integrate Pardot with Salesforce CRM for you. But what if not? Don't worry! By opting for the right Salesforce integration partner, you can get hassle-free integration. This will not only reduce your stress but also save time and resources. So what are you waiting for? Let's take action.