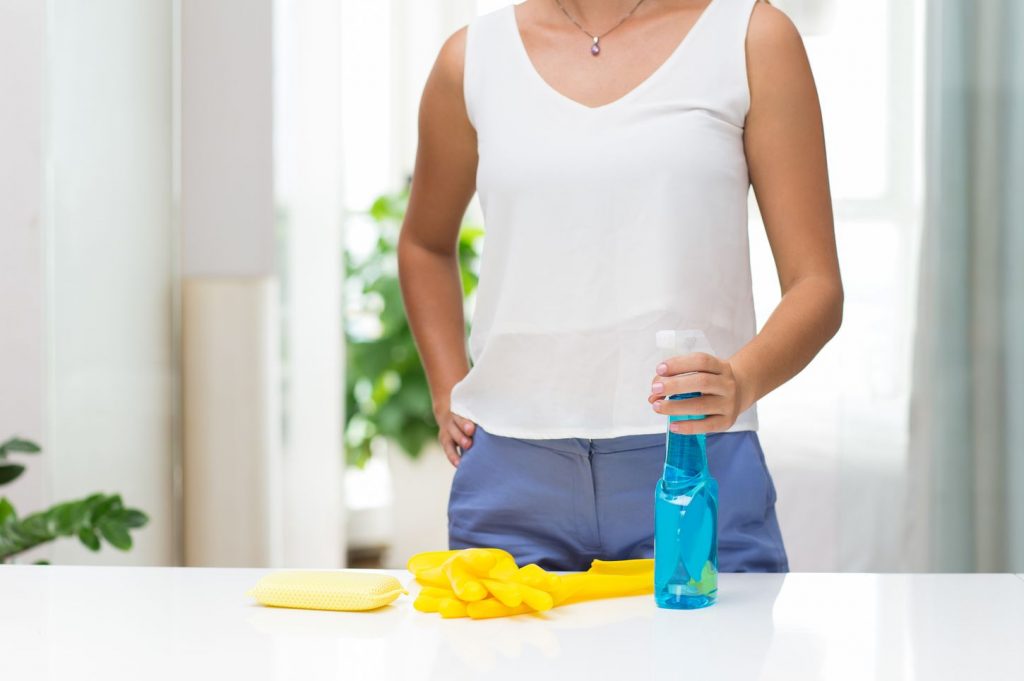 First and foremost, it is important to understand the clear difference between cleaning and disinfecting. Cleaning simply refers to removing dirt and dust particles, and disinfecting is a step that is carried out after cleaning to kill germs on a surface.
Regular cleaning and disinfecting of floors, doors, sofas, and other frequently touched surfaces are very important as kids touch almost everything in a house. After the onset of the COVID-19 pandemic, people have become more aware of the necessity of maintaining a clean and disinfected area.
Although the use of chemicals and surface disinfectants are essential to kill germs and stop the spread of communicable diseases, they can be hazardous to children if not wiped properly or left in open, especially in their concentrated form.
To ensure that nothing unfortunate happens, we can follow the precautionary steps mentioned below.
Make sure to store the products in their original labelled containers in some place that cannot be accessed by children.
Spray bottles containing diluted disinfectants and sanitizers can be kept out of reach of children, so they do not try to play around with them.
Carry out the disinfecting process and spraying when children are away, to avoid inhaling and exposing skin and eyes.
While utilising efficient virus-killing solutions is important, it is also critical to follow proper methods to disinfect surfaces around the house thoroughly. The EPA has recommended allowing the product to stay and keeping the surfaces or items wet for ten minutes to ensure proper disinfection.
Healthcare institutions and industrial facilities are also starting to accept the importance of proper cleaning and disinfecting measures. They have started training programs to teach professionals how to clean and disinfect facilities effectively.
Considering the recent COVID-19 pandemic and rising demand for cleaning and disinfecting products, the surface disinfectant market and industrial and institutional cleaning chemicals market has developed more efficient products that provide better results.
Many manufacturers have developed an improved formula to launch an all-in-one product that offers both the functions of surface disinfectant and cleaner. Professionals and homeowners both now select to utilize these products as it helps in reducing the number of chemicals used and saves a lot of time.
The most common type of disinfectants available in the market are:
Chlorine Compounds
The most common type of chlorine disinfection is hypochlorite, which is available as a liquid or a solid. They are inexpensive and offer a relatively quick speed in killing germs. One more advantage of hypochlorite is that it does not leave toxic residue. They can be corrosive and may lead to the discolouration of certain objects.
Alcohol
According to the healthcare industry, alcohol disinfectants refer to two water-soluble compounds including ethyl alcohol and isopropyl alcohol. In the healthcare sector, although alcohol has not been cleared by FDA as the main ingredient for disinfectants, ethyl alcohol can be used at a concentration of 60%-80% a potent agent to kill all lipophilic viruses.
Hydrogen Peroxide
H2O2 disinfectants are considered a green and sustainable option for the environment as they break down into naturally occurring components, such as water and oxygen. They are capable of killing a wide range of bacteria and viruses quickly, while being mildly acidic in nature and excellent cleaners.