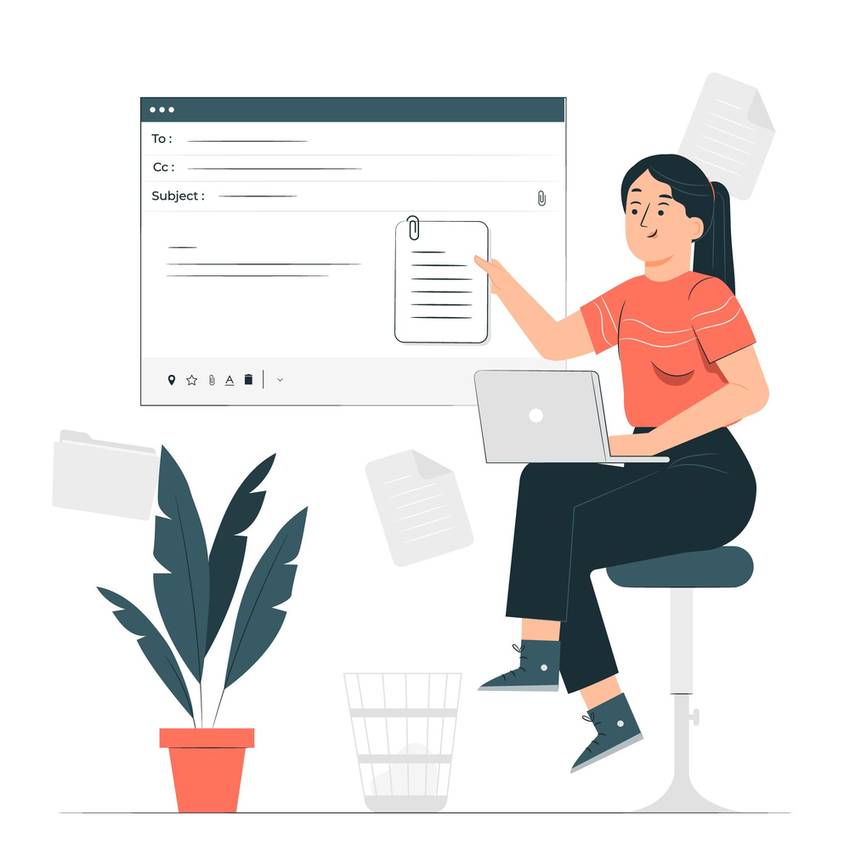 What is Email Marketing?
Email marketing is the use of emails to conduct marketing activities and reach out to the audience. We occasionally receive emails from various brands with information about their products and special offers. Email marketing is a two-way process in which both the sender and the receiver have interests and is one of the best sales engagement techniques across the globe.
How Does Email Marketing Help for Small Businesses?
What advantages can email marketing offer small companies? Let's look more closely at the operation and specifics of email marketing to get the solution to this query.
Big gains with a small investment 
Emails typically provide a high return on investment for a small investment. It is a low-cost marketing channel for communicating with potential leads.
Small businesses typically have limited capital and marketing resources. They want to reach the masses while spending as little as possible.
Email marketing is a popular way to reach out to the masses while maintaining an online presence.
Learn about your customer
Knowing your prospects is essential for expanding your business and establishing a strong presence in the online world. Because it is a two-way street, the brand sends its message, and the customer responds.
To better understand your customer, the reaction is then documented, researched, and evaluated. Through the open, click, bounce, and engagement rates of emails, information is provided.
Consequently, email marketing's objective is to aid tiny firms.
Steps For a Successful Small Business Email Marketing Strategy
Let's go over these four steps to have a better understanding of how small businesses might use email marketing.
Sign-ups will help you build your email list
Firstly, create a contact list to send emails. Then, sign-up forms and popups are used to build an email list. Once they sign up for your newsletter and emails, they will receive your emails.
Plan your email format
Plan the type of email you want to send to your subscribers after carefully creating the email list. Email formats are determined by your company's size, needs, audience, and resources.
Emails are classified into five types:
Send out general announcement emails.
Monthly publication
New subscribers welcome emails
Email reminders for abandoned cart purchases
Email promotions for offers, benefits, and incentives
You must decide which email is best for small businesses. The image below shows different email types, such as a thank you note, a blast email, a promotional email, and a newsletter.
Create your emails
Create an email that resonates with your audience and has a pleasant tone. A well-designed email will have attention-getting, eye-catching, attractive, and engaging design.
Use eye-catching images, strong fonts, and eye-catching colours to stand out because most people scan content. Take your time coming up with the ideal design, images, and information because email design is an art.
Monitor the outcomes
Email marketing tracking and measurement is a great way to learn from your mistakes. You learn from your customers' responses to your emails. Track performance, and if anything falls short of perfection, go back through the entire process to analyze your error and redo after correction.
Track the purchases and queries that occur after you hit the send button to determine whether or not your email marketing KPIs have been met. Always be on the lookout for ways to improve your campaign.
The Advantages of Email Marketing for Small Businesses:
Email marketing for small businesses has numerous advantages that can help your company grow and scale. Take advantage of the following email marketing benefits to generate leads for increased ROI and sales.
Permission-based marketing form
It is impolite to enter a place uninvited. Sending an email to a customer is the same as entering someone's space, but only with permission. When a customer subscribes or signs up for your newsletters, they are entrusting you with their email address. The authorization allows you to interact with the customer and build a friendly relationship with a potential lead in order to begin the conversion process.
Contact your prospects directly
Through an email campaign, direct email marketing allows you to interact with your customers directly. The email arrives in their inbox, their personal space. Because it allows for direct communication, it is an excellent way to establish and nurture a relationship with a potential lead. Because mobile phones and other devices are so easily accessible, 99% of people check their emails every day. When you send an email, it is highly likely that your customer will read it.
Increased sales
Whoever believes that email marketing is no longer an effective form of marketing should be surprised to learn that 66% of customers make an online purchase as a result of an email. Because email marketing is a trigger for impulse purchases, there is a good chance that the customer, if impressed by your email, will make a purchase immediately after viewing your email.
If you abandon the cart on your way out, you will receive emails encouraging you to complete your purchase. Sales revenue can be increased by using automated emails.
Customized content
Email personalization aids in increasing sales. Emails that are targeted or personalized add an emotional touch to the message. When you address someone by name, the impact is different and has a deeper impact on the customer. Personalized subject lines have a 26% greater chance of influencing open rates. The greater the personalization, the greater the customer satisfaction and trust.
Measurable result 
Marketing automation makes it simple to assess the effectiveness of an email marketing strategy for small businesses. You get a comprehensive analysis of your marketing performance when you automate the process. The automated process has a high success rate. When there is a detailed analysis of open, click-through, bounce rates, and other analytics, improving emails is relatively simple.
Growth prospects
You can tailor your email marketing strategies to expand your opportunities without putting additional strain on your budget or resources. Email marketing is a versatile process that combines various elements without sacrificing quality. You can scale your campaigns to have a greater impact on the audience with a little personalization, an improvement on the existing designs, scheduling, and other tricks.
High ROI  
Email marketing is less expensive, more cost-effective, and has a higher rate of return when compared to print media and traditional direct marketing channels. Given the numerous other advantages of email marketing for small businesses, this is a reasonable price. It is a low-cost option for mass communication campaigns.
Increased customer retention rate 
Emails are an excellent way to increase engagement between the company and its customers. Consistent communication and engagement between two entities can foster a strong trust and reliability relationship. The higher the level of trust, the higher the rate of customer retention. You can now reach your customer no matter where they are by using their inbox.
Definitive position 
As a service provider, your goal is to provide solutions to customer needs and problems. As a result, you establish yourself as an expert in your field and the go-to solution provider. Email marketing will help you establish yourself as an expert in high-quality products and services. As a small business owner, your goal is to establish and maintain authority in order to scale your business and make an impact.
Increase leads
Email marketing is most effective for small businesses by strategically informing them about new products, promotions, offers, incentives, resources, and any company updates. It raises brand awareness, which leads to more leads and accelerates the conversion process. You can also keep track of bad leads and stop wasting time on dead ends.
Examples of Email Marketing Strategies For Small Business
The Hell Yeah Group
"The Hell Yeah Group" is an excellent example of a small business using email marketing to great effect. It provides financial services to creative entrepreneurs. Their email strategy consists of a weekly newsletter that contains useful information and content for readers with similar interests.
Help Scout
Help Scout's email campaigns are crushing it. This small business's advertisement has excellent content, as well as the correct CTA position, color schemes, and social media handles. It has the right content to expand a customer base, and you can expand your customer base while elevating the brand. For small businesses, high-content email campaigns can work like magic in capturing the attention of subscribers and potential customers.
Conclusion:
Email marketing is a make-or-break game for your company. Focus on your deliverables, content quality, and customer needs. After determining what your customer requires, you must focus on that pain point and ensure that your content provides sufficient value to your target audience. You may stumble frequently in order to achieve success, but the key is to never give up and to keep trying until you reach the pinnacle of success.