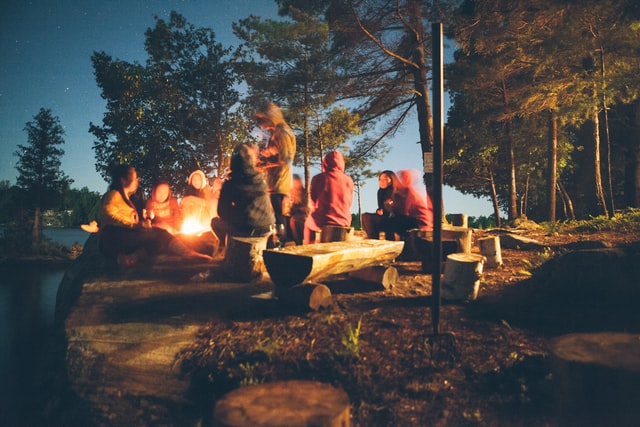 If you have never done family camping before, the prospect of getting ready for the experience can be a little daunting. What items are a must-have, and which others can you do without? How to reign in the costs? How will you manage everything? Well, don't worry! We are here to help. 
Our beginner-friendly family camping checklist below is an excellent start. However, before you get to take a look at the essentials, we bring you some tips and tricks to ensure you get the most out of your trip.
Tips to determine your family's camping requirements
1. Can you do a camping trial run in your backyard?
You need to do a little trial run of your camping trip. It can really help you understand what gear you might be missing. Besides, it is an excellent way for your kids to get familiar with real-life camping and get the hang of everything. So, if it's possible for you, do a little test run before you set foot out for the real camping.
2. Can you borrow some of the gear from family and friends?
It's one of the best tricks to reduce your costs and understand what you need before you can shell out money on your supplies. For instance, before we set out on our first family trip, I borrowed two tents from friends and family. It helped us understand which type of tent would be most suitable for the members of the family.
3. Can you identify your camping style or camping preference?
If you have camped before, you probably know this already. What camping style do you prefer? Do you like to camp in the wild during warm weather conditions or cold or both? Do you prefer camping in the car, your RV, or backpacking? Each camping style has its own advantages, disadvantages, and requirements. Therefore, answers to these questions will determine what supplies you should bring along for your family camping trip.
4. Can you recycle any of your previous gear?
Again, if you have camped before, you can probably recycle some of your former gear. Think about stuff like sleeping pads, sleeping bags, kitchen accessories, and any other stuff you can reuse. Reusing items here and there instead of purchasing everything new will make your first family trip a little less expensive.
Our Beginner Friendly Family Camping Trip List
Below is our family camping list for beginners. Obviously, every family's dynamics and needs are different; therefore, pick and remove the items as per your needs.
The Essentials
The essentials – as you can tell – are your must-have items. They are also the most expensive items. Therefore, borrow or invest as per your requirements.
Tent(s) (style as per your requirements)
Ground cover or a tarp
Sleeping bags (or bed sheets & blankets)
Sleeping pads or air mattresses
Portable crib for younger children
Pillows and other kids' favorite items for their bedtime
Clothing and other useful equipment
Now, this list will surely be different on the basis of where you are camping (is their water, bathroom available or not), what month of the year it is, and how long you plan to stay.
Season Clothing (along with plenty of extras for the kids)
Pajamas, night Suites, etc
Jackets, Belts, hats & gloves, etc. (it gets cold at night)
Diapers/nappies (if you are going with your toddler)
Portable camp chairs and tables (if any)
Your customized First Aid Kit
Beach blanket (If you are going to a beach)
Baby wipes (they're good for cleaning just about everything)
Any Toiletries (for each member of the family)
Some survival supplies
Camp towels (one towel per person)
Flashlights or headlamps (one per person)
Fire starting tinder, kindling & firewood etc. for the fire pit
Matches or lighter to ignite the firewood
Insect repellant, Sun Screen
Camp Kitchen
When you are out on your first family camping trip, try to keep your meals simple. This will ensure your kitchen luggage remains minimal. Sure, you can add on any of the items or remove them if the need be. Here's what a simple camp kitchen should include:
Camp stove and propane/butane cylinder
Plates, cups & other kitchen utensils (prefer plastic utensils because they keep it simple)
Cooking utensils, pots, and pans
Cooler along with ice
Reusable water bottles (one per person)
Portable chair or booster seats for younger kids
Food items for meals, plus plenty of snacks (we recommend easy cook meals)
Some more supplies (such as graham crackers, marshmallows, juices, and chocolate)
Water & other drinks of your choice
Formula food or baby food for infants as necessary
Paper towels
Some Trash bags
Personal Items
Everyone's requirements are different. Therefore, bring any of the items below as necessary:
Sunscreen
Insect repellant
First-aid kit
Prescription medications
Toothbrush, toiletries
Soap
At least 2 face coverings per person
60% or higher alcohol-based hand sanitizer
Protective gloves for each person
Prescribed medication (if any)
Games & Entertainment
Kids don't need much entertainment when they are outdoors. Being outdoor, in nature, any activity is a kind of fun in itself. However, you never know when you need something to distract the kids. Therefore, these items can come in handy.
Glow sticks
Bubbles
camping bingo or Scavenger hunt list
A Play tent
Their favorite games, colors, books & crayons, etc
A deck of cards
Drawing Implements
Bedtime storybooks
Camera
Binoculars (for stargazing & wildlife spotting)
Fishing gear and some bait etc.
Final Thoughts
So, there you have it, a complete list for your family's first camping trip. We hope the tips mentioned in the article will come in handy whenever you plan a camping trip. Keep the above items in your mind before you start shopping for the list. This list may look extensive because we created them for beginners. Once you go out and explore a bit, you may realize that your family doesn't need some of the items here. So you can skip them for the next trip. Have fun, stay safe, stay healthy and go make your 2022 vacations memorable!