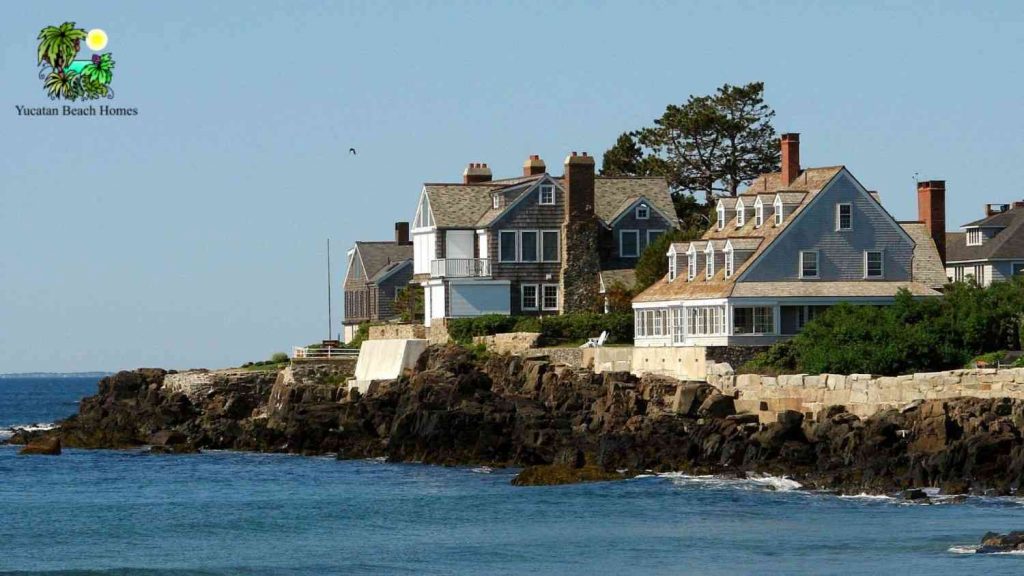 Owning a house facing the ocean is a dream of many. It can be your perfect recluse from the hustle and bustle of city life, offering you ample time to connect with nature. However, being a beachfront homeowner comes with a set of responsibilities to fulfill. 
The maintenance of properties in tropical regions is different from other regions. In coastal areas sand, salt, and sun are the culprits behind cloudy windows, molded carpets, and rusty windows. To ensure that your beach home in Progreso, Mexico stays a haven for you, we have compiled a list of tips to help you do just that.
Prevent the growth of mildew and mold
Mildew and mold can develop on any surface, inside or out. If your beach home is closed for too long or lacks proper ventilation, it will act as a breeding ground for both. Therefore it is essential to let your beachfront home breathe. Also, ensure to clean all surfaces with anti-fungal solutions.
Another area that is likely to be affected by mold is roofs and decks. Get them cleaned professionally to avoid any further growth.
Remember to pressure wash
The ocean breeze that calms your nerves can cause an invisible layer of salt and dust to stick to your home's interior. Due to condensation from humid air, they tend to stick to the outer surfaces. Therefore, it becomes necessary to pressure wash the exterior every three to six months to keep your home in premium condition. It is a very simple process, and you can do it yourself. Make sure to use a soap that is mild, chemical-free, and non-abrasive.
Have pest control regularly
Termites, rodents, and cockroaches are attracted to dark, damp, and warm areas. They can be found in some of the most hard-to-reach areas in your beach house. So, it becomes essential to have pest control if you notice these little creatures moving around your real estate in Chelem, Mexico.
Don't forget to varnish your wood
Exposed wood surfaces like decks, doors, railings, etc. need to be inspected for rot and touched up with paint or varnish every six months. Sun damage occurs faster on south and west-facing surfaces than on north and east-facing surfaces. Applying varnish on wooden surfaces every season protects them from humidity and moisture.
Exterior paint
No matter how expensive paint is used on your beachfront real estate in Chelem, Mexico, it will experience the same fate under the sun, salty air, and sand. Left neglected, it will fade or blister. To avoid any major issues, consider priming and painting it every few years. To avoid any costly repairs, inspect it regularly for cracks and other problems.
Metals
If it is possible, avoid using any metals on the exterior of your home, such as stair railings, windows, and lights. You can go for alternative materials such as fiberglass for windows and doors. You can also opt for stainless steel, aluminum, or powder-coated metal. Although they are not entirely unaffected by rust, they will hold up much longer.
Replace HVAC filters
HVAC systems in beach homes in Progreso, Mexico, have to deal with more sand and fine particles. Replacing these filters is essential to keeping the sand away from the rest of the unit. Rinsing the blades and coils helps to prevent salt buildup. If your HVAC unit is outside, keep it away from leaves and debris and avoid planting anything within 2 to 3 feet of it.
Protect your outdoor items
Outside furniture, patio umbrellas, and other accessories tend to deteriorate due to prolonged exposure to the sun, sea air, and humidity. To protect the furniture in your real estate in Chelem, Mexico, it is essential to put them away when it is not in use. Simply covering them and leaving them outside is not ideal, as trapped moisture can lead to the growth of mold and mildew underneath.
The perks of owning a waterfront real estate in Chelem, Mexico far outweighs the maintenance needed for its upkeep. If you own a beach home in Progreso, Mexico, it is essential to invest some amount in its upkeep and upgradation to ensure that it stays in the best condition for you to enjoy your vacations. 
If you are still looking for Chuburna beachfront homes for sale and can't decide for yourself, you can reach out to the agents we work with. We are sure to provide you with a beachfront home in Chuburna you have dreamed about.