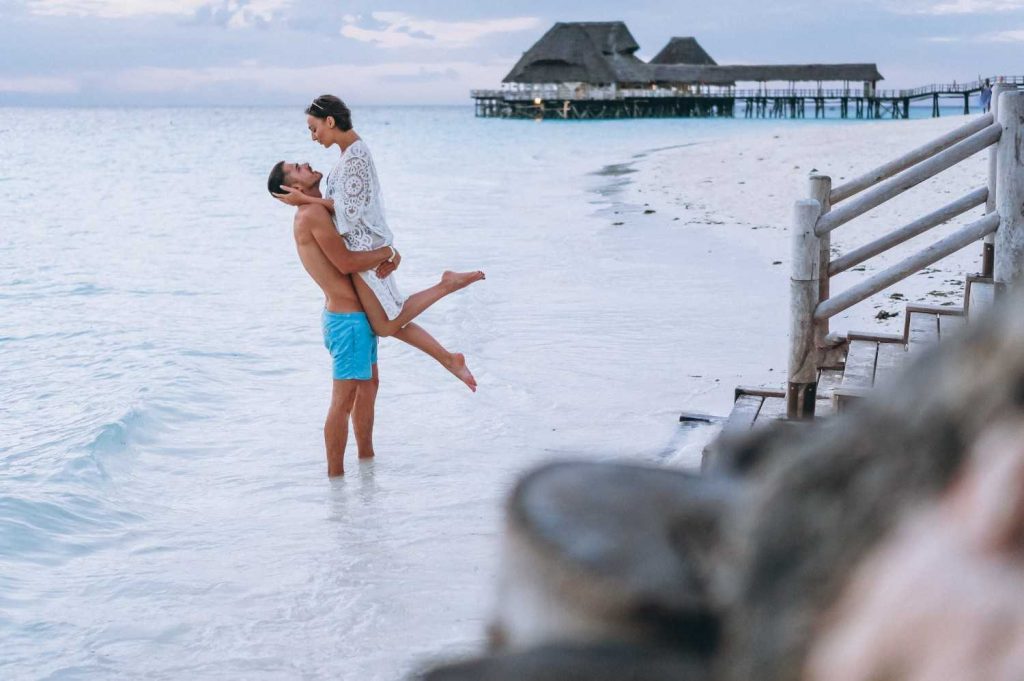 Planning for a romantic trip to Bora Bora with your partner? But don't know where to start from? Don't you worry cause we got you covered. We have a comprehensive guide for your romantic tour in Bora Bora itinerary so that you and your significant other can enjoy a relaxing trip and create romantic memories. 
About Bora Bora
Bora Bora is an island group in the Leeward islands. The Leeward Islands comprises the western part of the society islands in French Polynesia, which is an overseas collectivity of the French Republic in the Pacific Ocean. The main island of Bora Bora is surrounded by a lagoon and barrier reef. In the centre of the island is the remnant of an extinct volcano with two peaks named Mount Pahia and Mount Otemanu. The native people of Bora Bora island speak Tahitian language and French as long ago Bora Bora was a french colony. Now, due to massive numbers of tourists, People of Bora Bora have learnt English as well. 
Bora Bora offers luxurious resorts and exotic experiences alongside white sandy beaches, lush greenery, soaring volcano peaks and glistening water.
The chic and quaint resorts and surroundings make it an amazing place for couples.
A total honeymoon spot for couples who want to try activities while spending time together. You can start planning your trip with Qatar Airlines which is a reliable choice when it comes to flying straight to Bora Bora. A safe, affordable and fast journey just for you and your partner. 
Keep on reading to find where to stay or what to do in Bora Bora with your partner.
Things to do on Your Romantic Tour to Bora Bora.
We have collected some of the best things that you can do in Bora Bora island with your partner.
Tourist Attraction:
As a major hub of tourism, Bora Bora has many attractions spots for tourists
Vaitape
This is the main town of Bora Bora, Vaiptape enjoys a significant number of tourists. You can visit the memorial of Alain Gerbault, the first Frenchman to sail around the world and finally settled down in Polynesia. The Bloody Mary restaurant is the most popular diner in the town. So, if you are in Vaitape, then do try them.
Mount Otemanu
This mount was once an active volcano but now sleeps peacefully in this serene atmosphere of Bora Bora Island. You can hike this mountain solo or can book a 4×4 tour with a proper guide. You may also take a splendid helicopter ride with your partner to watch a breathtaking aerial view of this peak.
Matira Beach
If you want to spend some quality time while sunbathing then Matira
Beach is your relaxing spot. The white sand beach and the crystal clear water add more beauty to this island. Matira Beach is also known for amazing snorkelling experiences.
How to Plan A Romantic Tour to Bora Bora
You can create your personalised Bora Bora tour after we tell you the best yet budget friendly places, activities and accommodations to make your tour memorable. You can stay in a lavish resort room or you can also stay in Bora Bora water bungalows.
The ST. Regis Bora Bora Resort
This premium resort is located on the island thin island (Motu), offering the view of the oceans and lagoons along with a view of the mainland of Bora Bora. In some of its parts, you can see the lagoon through glass flooring.
Amenities & Offerings: Spa, beach villas, over-water villas, royal estate, restaurants, private pools, and bar
Suggested Stay: Premier Overwater Villa
Suggested Dining: Must-try contemporary and pure Japanese flavours at the first Sushi restaurant of the region – Sushi Take
The Hilton Bora Bora Nui Resort and Spa
This resort is specifically known for its Bora Bora vacation. Surrounded by white sand beaches and black basalt rocks and lush vegetation that will captivate your attention. With an amazing view of the lagoon and ocean, this place is a perfect spot for couples to spend some romantic moments.
Amenities & Offerings: Spa, infinity pool, jet-skiing, scuba-diving, snorkelling, over-water villas, lagoon view suites, garden & hillside villas, restaurants, and bars
Suggested Stay: King Royal Overwater Villa
Suggested Dining: Romantic beach dinner facing the lagoon at the Queen Pomare IV private beach on a tiny islet
Pearl Beach Resort
This resort is a perfect example of traditional Tahiti architecture and Polynesian decoration. This resort overlooks the turquoise salt water pool and private jacuzzi to elevate the experience of the Bora Bora island for the guest.
Amenities & Offerings: Manea Spa surrounded by lily ponds, resident tattoo artist, garden suites with private pools, beach suites with private Jacuzzis, restaurants, and bars
Suggested Stay: Otemanu View Premium Overwater Bungalow
Suggested Dining: Italian dishes, local seafood, and the Polynesian flavours at Fare Ambrosia
Travelling around Bora Bora
You can go around exploring the beautiful Bora Bora Island with your partner as there are a lot of ways to do that. 
Try to ride on Bike: As exciting as it sounds, bikes are the most convenient choice to travel around in Bora Bora. While some resorts may give you bikes as complimentary services in your Bora Bora package but some might charge some cost.
Take a rental car : You can travel by rental car with your partner around the island. You can rent these cars at the airport or through a rental service or you can also ask your resort to book a rental for you. Renting a car or a four-wheeler is always recommended as it is time saving and efficient. It makes it easier to cover a large distance and the scenic drive is always worth it!
Travel by Local transport like le Truck: Though this seems unreliable but they can be a very economical option for those who are looking to save travelling cost. You can explore many places in Bora Bora island and interact with the locals to get to know more about the destination and its hidden gems.
Go with a Taxi: Taxis are always the most convenient and safest option to travel in Bora Bora. Though they can be expensive as well, do not forget to bargain to a fair price.
Explore Water Taxi : Water Taxi is a unique way to travel in Bora Bora island. You can observe the amazing, vibrant and picturesque view of the island on a water taxi. But similar to the water taxis, there are some complimentary boat shuttles provided by the airport and resorts. Some resorts, however, charge for the scheduled/private boat trips around Bora Bora.
Tips to Remember before travelling To Bora Bora Island
Pack some snacks in your luggage : Bora Bora is located in an isolated place thus everything costs more, so pack some munching items in your luggage.
Pack Reusable shopping bag: A light weight bag can be used for multiple purposes like carrying grocery or food.
Bring a Float and A rope : The current is mostly calm in Bora Bora lagoon for a peaceful swim on your own. But do not forget to carry a rope to tie yourself so that you don't end up floating away from Bora Bora island.
Pack Lightly: You must not pack a lot of stuff as inter-island flights have some very strict weight restrictions.