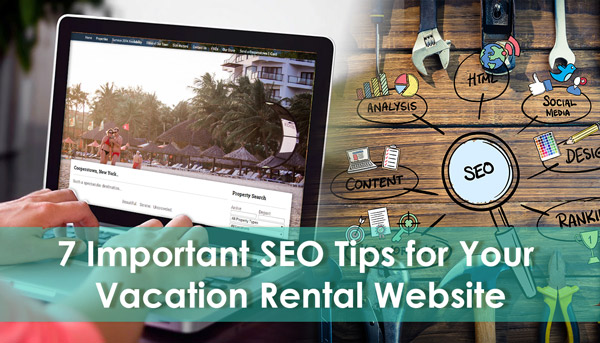 Vacation rental websites have become extremely prevalent during the last few years and have not shown any signs of declining in the market in coming times. As such SEO services for vacation rentals are also coming up in full force. SEO or Search Engine Optimization is basically a strategy to rank higher on search engines like Google and bring more relevant traffic to your website in an organic way. When you require SEO services for your vacation rental website, there are certain tips you should keep in mind which will be discussed here.
Optimise Technical SEO
To improve the credibility and user experience of your vacation rental website, it is best to use technical methods to optimise your SEO and see results. Website speed is an important factor as people tend to not remain or return to website which are slow and lag frequently. Other factor is the compatibility of your website on other devices like mobiles, iPads etc as people have started using alternate devices in their daily usage and as such, a large number of websites are accessed by the same devices, and they should not be hassled if they decide to navigate your website this way.
Choose the Right Keywords for your SEO Services
SEO services are largely intertwined with the algorithms of search engines and as such, it is very important to find accurate keywords. If we take the example of SEO services for vacation rentals, keywords like 'California Vacation Rentals' can be used. While it would be a specific and relevant keyword, it would also not be unnecessarily competitive as compared to if generic keywords are used. Most people do not look farther than the first 5 searches and less so who'd go farther than the first page.
Create Good Content
A good content is a necessity no matter the industry you are in. Keep up with the competitive market by frequently giving out attention gripping content which is rich and informative. The utilization of blogs for the promotion of your company can be a wonderful way to remain in the eyes of the clients and provide you with valuable visitor details which can help you not only improve your content but get you industry feedback which can even assist you with your business workings.
Link Building
A good optimization service has a very important aspect engraved within it i.e., the utilization of link building. It is extremely important to have linking between the relevant posts and pages of your website to maintain a certain cohesiveness. Not limited to it though, you should also focus on On page SEO Factors for Ranking and Off-page SEO optimization aka the type of optimization done outside your website. It helps with your ranking, credibility, and the click-through rate of your website and is an amazing tool of SEO services.
Write suitable meta titles and descriptions
The short text portion visible under the title of a search result is known as meta description. The title shown is known as the meta title. These are extremely important for your SEO as these are the first things which come up when you look something up on any search engine. Your meta title and descriptions need to suit your content but should also be fairly tantalising so that people are interested to go through it. A captivating meta description or title also contributes your unique content and increases your search engine ranking. Using short and descriptive content which is SEO friendly is your best bet.
Actively use social media
In present times, a strong and dynamic social media presence can do wonders for your business. It is an SEO tool which can be used outside your website and give astounding results in return. A Facebook, Instagram, or Twitter profile, if well maintained, can easily bring loads of potential leads, and also add to the credibility and trust of your website. Interactive and fresh content such as photos and videos can be promoted via social media with the usage of appropriate hashtags, and it can really contribute even as a user-generated content, so you do not need to do all the work for it.
Use optimised high-quality images
Every good vacation rental website needs high-quality images of the properties and the surrounding areas. This is something which can make or break a deal with an interested client. Your images should be well optimised so that they can be 'read' properly by Google and other search engines. A good picture can make the place look even more appealing and basically increases the visual value of the place and this is also a part of SEO services for vacation rentals. WebDesignVR is a professional SEO service company in the USA, and we provide you with some of the best search engine optimization services in the United States. We make sure we set you up with affordable SEO services and focus on best SEO services for vacation rentals so that you do not struggle with the algorithm and let us do the work for your company in every way required.