The fashion trends for women have undergone a significant transformation in the year 2023. India, a cosmopolitan country, offers a diverse range of fashion trends that vary from one region to another. The current fashion trends for women in India combine traditional and contemporary styles. Fusion clothing, which merges traditional and Western elements to create distinctive and fashionable outfits, is one of the most popular fashion trends. Another trend is sustainable and eco-friendly fashion, which promotes the utilization of organic materials and ethical production methods.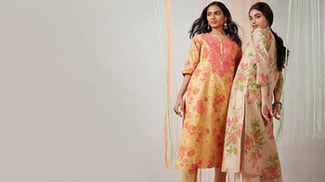 The following write-up will delve into the most up-to-date fashion trends for women to keep up with in the year 2023. From cotton dresses to Chanderi fabrics lehenga sets and embroidery dresses to Gota patti tier suit sets, let's take a look at the top fashion trends that are expected to rule the fashion industry in 2023.
Cotton Dresses – A Must-Have for Every Fashionista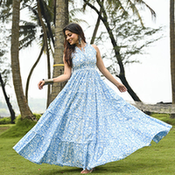 Cotton dresses have been a popular choice for women for a long time, and the latest fashion trends suggest that they will continue to be a favorite among fashion lovers. Western-style cotton dresses with new and captivating elements have become highly sought after in the fashion industry due to their latest designs. The newest fashion trends in Western dresses showcased on the runway are a blend of traditional and contemporary elements, featuring unique cuts, asymmetrical hemlines, and eye-catching designs. Ladies can choose from an array of Western-style cotton dresses, including midi and maxi dresses, off-the-shoulder dresses, and wrap dresses.
Chanderi Lehenga Set – A Perfect Blend of Tradition and Modernity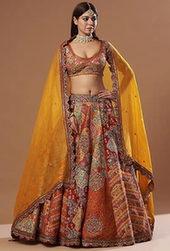 The Chanderi Lehenga Set is one of the latest fashion trends that has captured the attention of fashion enthusiasts. The Chanderi suit, a traditional Indian costume, is crafted using silk fabric, cotton, and zari threads, and is renowned for its intricate embroidery, lustrous translucency, and delicate texture. It is perfect for creating fashionable, comfortable, and versatile lehenga sets that are suitable for weddings, parties, and other formal events. The Chanderi Lehenga Set is offered in a variety of colors and patterns, including vivid shades such as red, pink, and orange, as well as muted hues like beige, grey, and black. It blends the cultural heritage of Indian textiles with modern fashion styles for women, making it a perfect representation of this trend.
Embroidery Dresses – Add Texture and Intricacy to Your Wardrobe
Embroidery dresses have been a favorite among women who want to add texture and intricacy to their outfits for a long time. Embroidery dresses have become a prominent feature of the latest fashion trends, and are now widely accessible in various styles and designs. The latest Western dresses use embroidery in creative ways on the hems, collars, and sleeves, enhancing the dress's overall look with an element of refinement and elegance. Fashion designers are fusing traditional embroidery techniques with contemporary silhouettes, resulting in the most fashionable Indian garments. This harmonious amalgamation of classic and modern styles creates a distinctive and intriguing fashion trend.
The Gota Patti Tier Suit Set – A Perfect Blend of Traditional and Modern Styles
The Gota Patti Tier Suit Set is a new addition to the Indian fashion industry, which seamlessly blends traditional and modern elements. This outfit is an excellent choice for women seeking a sophisticated and traditional appearance. The outfit showcases intricate Gota Patti embroidery and a tiered design, which is currently in vogue. The high-quality fabric used to make this dress offers a comfortable fit and is perfect for the present weather conditions. The Gota Patti Tier Suit Set is a versatile outfit that can be dressed in a variety of ways to create a Western look. To create a stylish appearance, pair it with trendy footwear and accessories.
Chanderi Suit Set – A Versatile Fashion Statement
The Chanderi suit set is a popular style among Indian women and has recently undergone a contemporary makeover, making it a versatile addition to any fashion-conscious person's wardrobe. Its adaptability is what makes it the newest fashion trend, as it can be dressed in a variety of ways to suit your preferences and tastes. With a variety of options for the dupatta's drape, bottoms' style, and kurta length, it's the perfect outfit for any event.
Hand-Printed Suit Set – Tradition Meets Modernity
Another trend in the newest fashion dresses for women in India is the hand-printed suit set. With its unique design and meticulous attention to detail, it has become a sought-after piece in the fashion world. The suit set is an ideal choice for individuals who wish to showcase their uniqueness and self-assurance through their fashion choices. It's ideal for formal events or casual hangouts with friends, as it's guaranteed to draw admiring glances.
The current fashion trends for women's clothing in India focus on celebrating the country's diverse traditions and cultural heritage. From handcrafted dresses to beautifully embroidered suit sets, there are plenty of options to choose from. Other eco-friendly options are available, including dresses made from bamboo, recycled fabrics, and organic cotton. This fashion trend is beneficial to everyone as it is both fashionable and environmentally responsible.
So, to add these latest fashion trends to your wardrobe, Don't forget to check out FabCouture. They have an extensive fabric stash featuring Chanderi fabrics, Gota Patti fabrics, the latest chiffon fabrics, satin fabrics, silk fabrics, and more. With their high-quality fabrics, you can create your own unique fashion pieces and stay on top of the latest fashion trends.