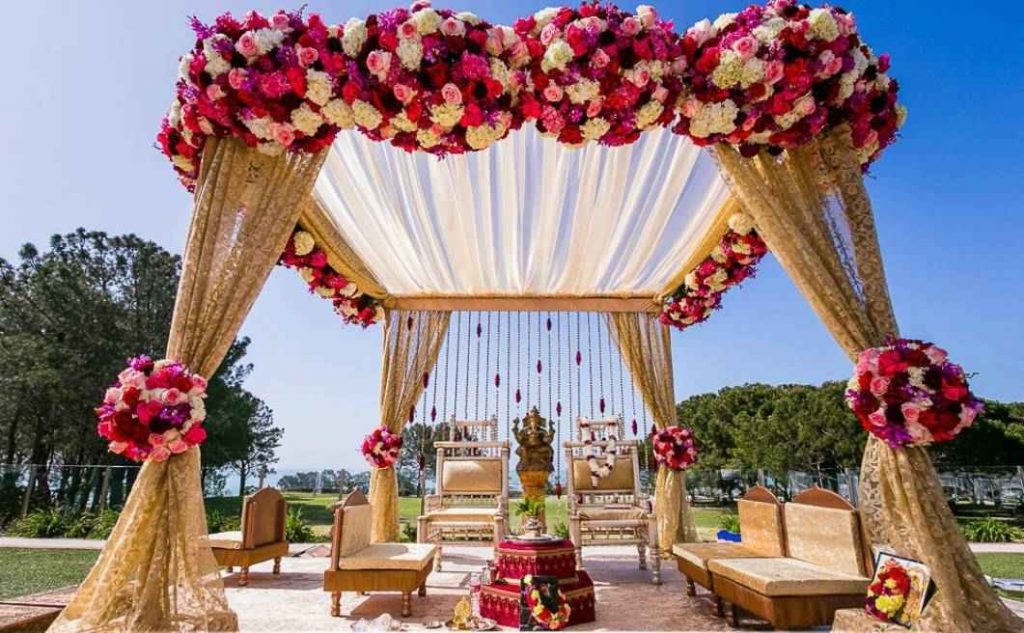 Introduction:
Planning a memorable wedding doesn't have to mean breaking the bank. With a little creativity and resourcefulness, you can have a beautiful and meaningful wedding celebration without overspending. In this article, we will explore some innovative ideas to help you plan a wedding on a budget, ensuring that your special day is both affordable and extraordinary.
Start with a Budget:
Before diving into the wedding planning process, establish a realistic budget. Determine the maximum amount you're willing to spend and allocate funds for each category, such as venue, food, decorations, attire, and photography. This will help you stay organized and make informed decisions throughout the planning process.
Opt for an Intimate Venue:
Consider hosting your wedding ceremony and reception at a non-traditional venue, such as a family member's backyard, a local park, or a community hall. These venues often offer lower or no rental fees, saving you a significant amount of money. Additionally, they provide a unique and personal touch to your celebration.
Timing is Key:
Choosing an off-peak wedding date or a weekday can lead to significant savings. Popular wedding months and weekends tend to come with higher price tags for venues and vendors. By opting for a less sought-after date, you can negotiate better deals and secure your desired services within your budget.
DIY Decorations:
Get your creative juices flowing by crafting your own wedding decorations. From centrepieces and flower arrangements to table settings and signage, there are numerous online tutorials and inspiration boards available to guide you through DIY projects. Not only will this save you money, but it will also add a personal touch to your wedding decor.
Simplify the Invitations:
Instead of splurging on expensive custom invitations, opt for affordable yet elegant options. Consider electronic invitations or printable templates that you can personalize and print at home. Alternatively, explore eco-friendly options by sending out digital invites through platforms like email or social media.
Borrow or Rent Wedding Attire:
Wedding attire can consume a significant portion of your budget. Instead of buying brand-new outfits, consider borrowing from a friend or family member who recently got married. You can also explore rental options for wedding gowns, suits, and accessories. This way, you can still look stunning without overspending.
Opt for a Buffet or Food Stations:
Buffet-style catering or food stations can be more cost-effective than a plated dinner. Work with your caterer to design a menu that suits your budget, and consider incorporating seasonal and locally sourced ingredients. Additionally, serving a signature cocktail or opting for a limited bar selection can help reduce beverage costs.
DIY Music and Entertainment:
Hiring a live band or a professional DJ can be expensive. Instead, create your own wedding playlist and use a sound system or speakers you already own or can borrow. Invite your musically talented friends or family members to perform during the ceremony or reception. This not only saves money but also adds a personal touch to the entertainment.
Capture Memories Creatively:
Professional photographers can be costly, but that doesn't mean you can't have beautiful photos of your special day. Consider hiring a photography student or an amateur photographer who offers lower rates. Alternatively, provide disposable cameras or set up a photo booth for guests to capture candid moments throughout the celebration.
Opt for Simple Favors:
Wedding favours can be a lovely gesture, but they can also add up quickly. Instead of elaborate and expensive gifts, opt for simple yet thoughtful favours. Consider homemade treats, personalized notes, or small potted plants. These alternatives are budget-friendly and will still leave a lasting impression on your guests.
Planning a wedding on a budget requires a bit of creativity, flexibility, and resourcefulness. By implementing these ideas, you can have a memorable and beautiful wedding celebration without straining your finances. Remember that the most important aspect of your wedding day is the love and commitment you share with your partner, and everything else is just an enhancement to that special bond.
DIY decorations not only save you money but also give you the opportunity to infuse your personality into the wedding decor. Explore online tutorials and get inspired to create centrepieces, floral arrangements, and other decorations that reflect your style. Simplify your invitations by opting for affordable options like electronic or printable templates, or embrace digital platforms for eco-friendly invites.
When it comes to attire, borrowing or renting can be a game-changer. Reach out to recently married friends or family members who may be willing to lend you their wedding attire. Rental services also provide a cost-effective solution for obtaining beautiful gowns, suits, and accessories without the hefty price tag.
Consider alternative catering options like buffets or food stations, which can be more budget-friendly than a plated dinner. Collaborate with your caterer to design a menu that suits your taste and budget. Look for seasonal and locally sourced ingredients to add a fresh touch to your culinary offerings. When it comes to beverages, limit your bar selection or serve a signature cocktail to cut costs.
Entertainment doesn't have to break the bank either. Create your own wedding playlist and utilize a sound system or speakers that you or your friends already own. Invite talented friends or family members to perform during the ceremony or reception, adding a personal and meaningful touch to the festivities.
Photography is another area where you can save money without compromising on quality. Consider hiring a photography student or an amateur photographer who offers lower rates. You can also encourage guests to capture special moments by providing disposable cameras or setting up a photo booth.
Finally, keep wedding favors simple yet thoughtful. Opt for homemade treats, personalized notes, or small potted plants as tokens of appreciation for your guests. These alternatives are not only budget-friendly but also leave a lasting impression.
Remember, a wedding is a celebration of love and commitment, and it doesn't have to drain your bank account. With these creative ideas and a little bit of planning, you can have a memorable and beautiful wedding day that stays within your budget. Embrace the opportunity to infuse your personal touch into every aspect of the celebration, and your wedding will be a reflection of your unique love story.
So go ahead, and embark on this exciting journey of planning your budget-friendly wedding. Enjoy the process, stay organized, and most importantly, cherish every moment of your special day.
Author Bio
Bharat Negi is an experienced SEO specialist at Sloshout, a leading online platform for booking party venues and event spaces. With a passion for digital marketing and a deep understanding of search engine optimization, Bharat plays a vital role in driving organic traffic and enhancing online visibility for Sloshout. Through sloshout, you can book a farmhouse for wedding in Dwarka
With several years of experience in the field, Bharat has developed a strong expertise in SEO strategies and techniques. He possesses a comprehensive understanding of keyword research, on-page and off-page optimization, link building, and content marketing. His analytical mindset and attention to detail enable him to identify opportunities and implement effective SEO strategies to improve search engine rankings and increase organic traffic.
Bharat's dedication to staying up-to-date with the latest trends and algorithms in the SEO industry allows him to deliver exceptional results. He constantly explores new tools and methodologies to optimize website performance, enhance user experience, and achieve higher conversion rates.
His collaborative approach and strong communication skills make him an integral part of the Sloshout team. Bharat actively works alongside content creators, developers, and marketing professionals to ensure that all aspects of SEO are seamlessly integrated into the overall marketing strategy. By leveraging his expertise, he contributes to the growth and success of Sloshout by driving targeted traffic and generating valuable leads.
Bharat holds a Bachelor's degree in Computer Science and Engineering. Prior to joining Sloshout, he gained valuable experience working in the SEO industry with various clients across different sectors. His diverse background has allowed him to acquire a holistic understanding of digital marketing and effectively apply his knowledge to achieve measurable results.
In his free time, Bharat enjoys staying updated on the latest trends and developments in the SEO industry. He actively participates in industry forums, webinars, and conferences to expand his knowledge and stay ahead of the curve. When he's not optimizing websites and analyzing data, Bharat loves to travel, read, and explore new cuisines.
As an SEO specialist at Sloshout, Bharat Negi brings his expertise, passion, and dedication to ensure that the platform ranks high in search engine results and attracts a relevant audience. His commitment to delivering exceptional results makes him an invaluable asset to the Sloshout team.